Browse By Brands:
Multi-rotor aircrafts and accessories

Multi-rotors


Ublox M8N GPS Built-in IST8310 Compass (for Pixhawk)
Features:
The Ardupilot unmanned autopilot firmware is constantly evolving. The fixed-wing and flying-wing FPV flights are increasingly inseparable from the GPS positioning system. The M8N has always been the best option of the Pixhawk Pixracer with its high precision positioning accuracy and fast search efficiency. This M8N GPS adopts the original imported M8N chip and optimizes the function module group. The built-in electronic compass has a refresh rate up to 10Hz. The precision is higher, the speed and number of search stars are obviously improved, supporting Galileo in Europe, GLONASS in Russia, Little Sun in Japan, and Beidou in China. The module supports GPS+Beidou+SBAS or GPS+GLONASS+SBAS.
Specifications:
Ublox M8N GPS Built-in IST8310 Compass (for Pixhawk)
Specifications:
- Features: GPS+Beidou+SBAS or GPS+GLONASS+SBAS
- Position Accuracy: 2.0 m CEP
- Sensitivity2 Tracking & Nav: –167 dBm
- Cold starts: –148 dBm
- Hot starts: –156 dBm
- Update rate: 5HZ Default, up to 10HZ
- Baudrate: 57600
- Optimize for Pixhawk and Pixracer running Ardupilot firmware
- Size: Diameter 45mm
- Weight: 20g
Interface definition: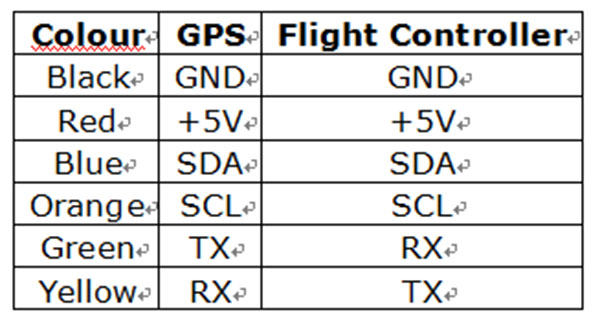 Includes/Requires:
Includes:
1 x GPS
1 x GPS mount


Customer Reviews:
Please explain:
Messages of this section are not monitored by HiModel, it is for review and discussion among customers only.
Upload Image:
(Up To 5 Files, only .jpg/.gif/.png files are accepted and sizes below 2MB for each)
Post as: Review Question
Select grade: star(s)
Anonymous: Yes No
©2003-2019 HiModel All Rights Reserved.