Browse By Brands:
Lithium Polymer (Li-poly) & Ni-Mh battery packs, battery chargers, Electric (Brushless) Motors, Electric Speed Controllers ( ESC ), Gyros, Electric Accessories etc.

Electric


Lithium Polymer Battery ( Li-Poly, LIPB) Chargers

HiModel 1-3 Cell High Precision LiPo Balancing Charger Type B05mV
Features:
This is the HiModel 1-3 Cell High Precision LiPo Balancing Charger Type B05mV
1. Extra thin appearance design, for charge control chip ensures balance precision within 5mV.
2. Automatically detects each cell stand or fall. If there is any abnormal cell, a restoring charge will be given.
3. Automatically detects and controls the voltage of each cell independently, ensures a balance voltage between cells.
4. Charge current is adjustable (0.5A/1A/1.5A/2A) through a press-button, and you can set different charging current separately for each cell.
5. Each cell's charge current and charge situation can be clearly displayed by double colors LED independently.
6. Wide input voltage range (11-15V DC), 12V storage battery is also usable.
7. Both input and output have protective functions of short circuit and opposite connection.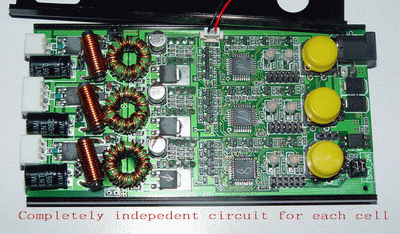 Specifications:
Spec:
· Input voltage: 100-240V AC to 12V/4000mA DC (adapter); 12V/4A (car charger)
· Input frequency: 50/60Hz
· Output: 3.2V-4.8V/500mA-2100mA DC, adjustable automatically.
· Operation temperature: 0℃ to 40℃
· Dimension: 125 x 67 x 17mm
· Weight: 136g



Includes/Requires:
Includes:
1 x charger
1 x Lead for DC input
Comments:
We understand what most important for a Li-Po charger is that it must be accurate in voltage and current control during charging, this charger is developed just under this principle.
HiModel
Customer Reviews:
Please explain:
Messages of this section are not monitored by HiModel, it is for review and discussion among customers only.
Upload Image:
(Up To 5 Files, only .jpg/.gif/.png files are accepted and sizes below 2MB for each)
Post as: Review Question
Select grade: star(s)
Anonymous: Yes No
©2003-2018 HiModel All Rights Reserved.