Browse By Brands:
Lithium Polymer (Li-poly) & Ni-Mh battery packs, battery chargers, Electric (Brushless) Motors, Electric Speed Controllers ( ESC ), Gyros, Electric Accessories etc.

Electric


Lithium Polymer Battery ( Li-Poly, LIPB) Chargers

EV-PEAK CD3 AC 110/ 220V Input 1-6S 200W x 2 Balance Charger | Black/Green
Features: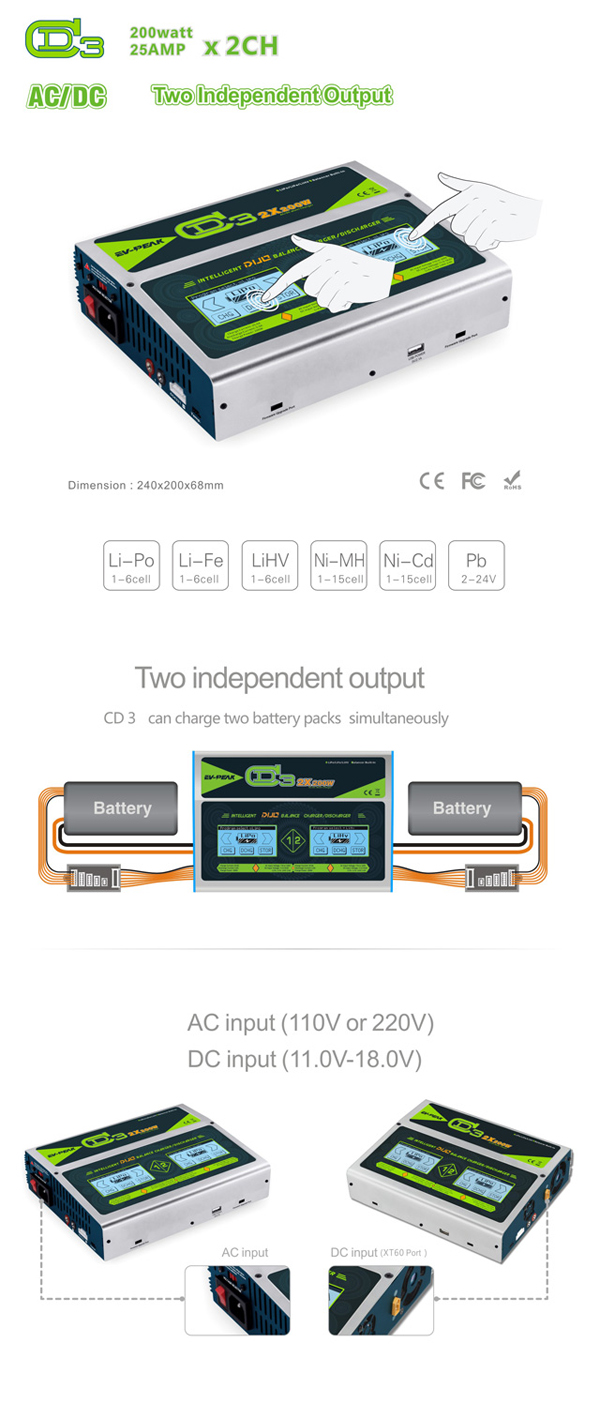 * Currently the product is Black/Green in color instead of Silver/ Green as shown on above diagrams.
Specifications:
EV-PEAK CD3 AC 110/ 220V Input 1-6S 200W x 2 Balance Charger - Black/ Green
AC Input voltage
110V or 220V
DC Input voltage
11-18.0V
Charge power
max.200Wx2
Discharger power
max.20W x2
Charge current range
(0.1-25.0A)x2
Discharge current range
(0.1-5.0A)x2
Balance tolerence
±0.01V
NiCd/NiMH battery cell count
1 - 15cells
LiPo/LiHV/LiFe battery cell count
1 - 6S
Pb battery voltage
2 V - 24V
Dimension
240x200x68mm
Weight
1730g
Wall plug type: wall plug type may vary from picture.
* If the wall plug of this device is different to your country wall plug, please refer to below link for possible plug adaptor you may need (to be purchased separately):
AC wall plug adaptors
Includes/Requires:
Includes:
1 x charger
1 x cable set



Customer Reviews:
Please explain:
Messages of this section are not monitored by HiModel, it is for review and discussion among customers only.
Upload Image:
(Up To 5 Files, only .jpg/.gif/.png files are accepted and sizes below 2MB for each)
Post as: Review Question
Select grade: star(s)
Anonymous: Yes No
©2003-2018 HiModel All Rights Reserved.