Browse By Brands:
Lithium Polymer (Li-poly) & Ni-Mh battery packs, battery chargers, Electric (Brushless) Motors, Electric Speed Controllers ( ESC ), Gyros, Electric Accessories etc.

Electric


5A UBEC/ Capacity display/ Low-voltage Alarm 3-in-1 Heli Version
Features:
This product is three-in-one electronic peripheral of airmodels including highly
effective voltage-stabilizing UBEC (rated at 5A), seven-segment electric quantity
display device and low-voltage alarm (flash) for battery groups. Besides, this product
has many functions such as output short-circuit protection, overheating protection,
reverse polarity connection protection and output voltage limits, etc.

Features
􀂄 The switching frequency of efficient and switch-stabilizing power supply chips is
350KHZ and the efficiency reaches up to 92%. In addition, these chips have
protective functions such as short-circuit protection and overheating protection.
􀂄 The product has UBEC output indicator. The indicator light will be on when the
UBEC output is normal.
􀂄 The precise and striking seven-segment electric quantity display can have a
real-time and accurate reflection of the voltage condition of power batteries.
􀂄 The precise battery low-voltage flash alarm has onboard LED (0.5W), external
high-power LED flash module (1W) and external flash module which can be
installed in any places of the model. Furthermore, it provides extraordinarily
striking flash alarm indication.
􀂄 It has output voltage limiting functions. Even if the transfer switch is damaged,
the output voltage will be restraint at 6V and no other airborne equipment will be
damaged for excessive voltage.
􀂄 This three-in-one UBEC only occupies a receiver channel (throttle channel) and it
doesn't need to take up extra channel.
􀂄 The external flash module and three-in-one UBEC can be directly pluged into the
three-prong row pin socket irrespective of the wiring order. Of course, you can
choose not to apply such external flash module.
􀂄 The BEC output cable is matched with filter magnetic ring, which greatly reduces
the electromagnetic interference.
􀂄 The product is small and light-weighted.
Specifications:
Product specification
􀂄 Battery groups switched in: 3-cell, 4-cell, and 6-cell LIPO battery groups. The
number of these electric cells is set by special switch and the batteries are set with
3 electric cells when the product leaves the factory.
􀂄 BEC output voltage: 5.3V and 6V output optional. The voltage is set by setting
switch and the output voltage is set at 5.3V when the product leaves the factory.
􀂄 BEC rated output current: 5A; maximum output current: 7.5A.
􀂄 Displayed voltage value of seven-segment electric quantity display device: 3.8V
—3.2V/CELL LIPO (electric helicopter type) or 4.0V—3.4V/CELL LIPO
(multi-rotor aircraft type).
􀂄 Threshold voltage of low-voltage alarm for battery groups: 3.5V/3.3V/CELL
LIPO (electric helicopter type) or 3.7V/3.5V/CELL LIPO (multi-rotor aircraft
type). The threshold voltage is set by the setting switch, while it is set at
3.5V/CELL LIPO (helicopter style) and 3.7V/CELL LIPO (multi-rotor aircraft
style).
􀂄 Battery low voltage alarming method: LED flash alarm, including o.5W onboard
LED and external 1W high-power LED flash modules (external 3W flash module
is upgraded).
􀂄 Product weight: 29g (including the weight of external flash module and all wires).
􀂄 Product dimension: L*W*H=72×25×12mm (excluding external flash module and
wires).
􀂄 Quiescent current: 80ma (The seven-segment electric quantity shows that the LED
is completely turned on and the LED will be on when UBEC works).
􀂄 Electric quantity displaying and alarming precision: max: 0.05V, typical: 0.03V,
min: 0.01V.
*This is the airplane/helicopter type, the difference between this type and multi-rotor aircraft type is battery checker display voltage range and low voltage alarm voltage.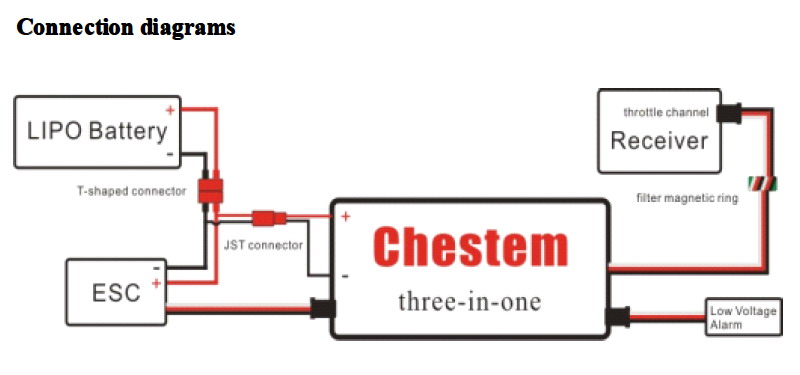 Includes/Requires:
Includes:
1 x 3-in-1 device (airplane/heli version)
1 x 1W high brightness external flashing LED
Customer Reviews:
Please explain:
Messages of this section are not monitored by HiModel, it is for review and discussion among customers only.
Upload Image:
(Up To 5 Files, only .jpg/.gif/.png files are accepted and sizes below 2MB for each)
Post as: Review Question
Select grade: star(s)
Anonymous: Yes No
©2003-2018 HiModel All Rights Reserved.