Browse By Brands:
Lithium Polymer (Li-poly) & Ni-Mh battery packs, battery chargers, Electric (Brushless) Motors, Electric Speed Controllers ( ESC ), Gyros, Electric Accessories etc.

Electric


4 in 1 2.1A 4.2V Charge Discharger DC-DC Boost Converter 3.7V to 5V Power Supply Module
Features:
This is a multifunctional 3.7V/4.2V Mobile Power Diy module,3 in 1 Function: charge,discharge and battery protection.
It is very suitable for DIY mobile power.
Comes with battery protection, do not need battery protection board
(if your battery comes with a protective board, it does not matter)
Overcurrent protection(OCP)
Overvoltage protection(OVP)
Short circuit protection(SCP)
Over temperature protection(OTP)
The button duration is longer than 50ms, but less than 2s, which is a short press action. Short press will turn on the battery indicator and boost output.
The two consecutive short presses within 1 s will turn off the boost output and power display.
7 KEY : Output trigger port(Low pulse trigger)
1 In discharge mode(In the charging mode,the KEY function is invalid),
the KEY Trigger once,turn on the output;Continuous trigger twice: turn off the output.
2 When the load access, it will automatically turn on the output.
But if the load is less than 50MA, the output will be turned off after 30 seconds
3 While charging, while discharge, it is allowed
If the output load current is less than 50MA, turn off the output after 30 seconds.
If the output load current is greater than 50MA,continuous turn on the output
This module is not suitable for uninterruptible power supply(ups).
Battery powered equipment
Lithium Battery 18650 14500
Mobile phone diy
Solar charging
MP3/MP4 player
Audio equipment
Video equipment
Portable Devices
Bluetooth Wifi Applications
MCU development board
Specifications:
4 in 1 2.1A 4.2V Charge Discharger DC-DC Boost Converter 3.7V to 5V Power Supply Module
Charge voltage : DC 4.5V-5.5V (DC 5V recommended)
Charging current : 0-2.1A
Charge quiescent current : 100uA
Full charge voltage : 4.2V+-1%.
Discharge current : 0-2.4A;
Discharge quiescent current : 50uA
Discharge conversion efficiency : maximum 96%
Output voltage : 5V
Output current : 0-2.1A;
Operating ambient temperature : -20° to +85°
Size : 25.2 x 16 x 4mm
Weight : 2.3g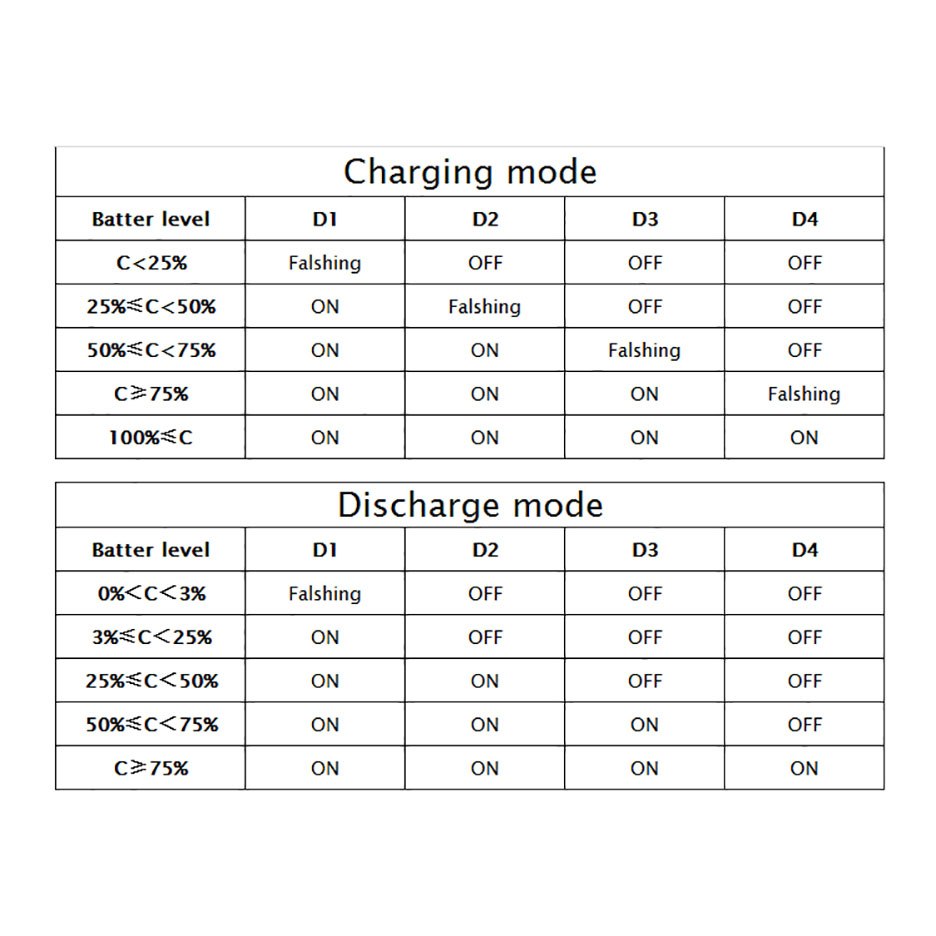 Includes/Requires:
Includes:
1 x 4 in 1 module

Customer Reviews:
Please explain:
Messages of this section are not monitored by HiModel, it is for review and discussion among customers only.
Upload Image:
(Up To 5 Files, only .jpg/.gif/.png files are accepted and sizes below 2MB for each)
Post as: Review Question
Select grade: star(s)
Anonymous: Yes No
©2003-2018 HiModel All Rights Reserved.