Feiyu Tech FY-G4 3-axis Handheld Steady Gimbal for Gopro 3/ Gopro 3+ / GoPro 4

Added:2015/03/27
Updated:2015/03/27



Tags: FY-G4 3-axis Handheld Steady Gimbal for Gopro 3/ Gopro 3+ / GoPro 4 feiyu tech
Introduction

The new Generation of FY-G4 3 axis handheld gimbal is suitable for Gopro4/Gopro3+/ Gopro3 and other similar size sports camera Using internal limit to hide all wires enjoying extreme wireless control. Special length design for more easy to hold and use with the second generation process system of Feiyu handheld gimbal process system to make more perfect filming tool

FY-G4 3-axis Handheld Steady Gimbal for Gopro 3/ Gopro 3+ / GoPro 4

FY-G4 comparison with FY-G3Ultra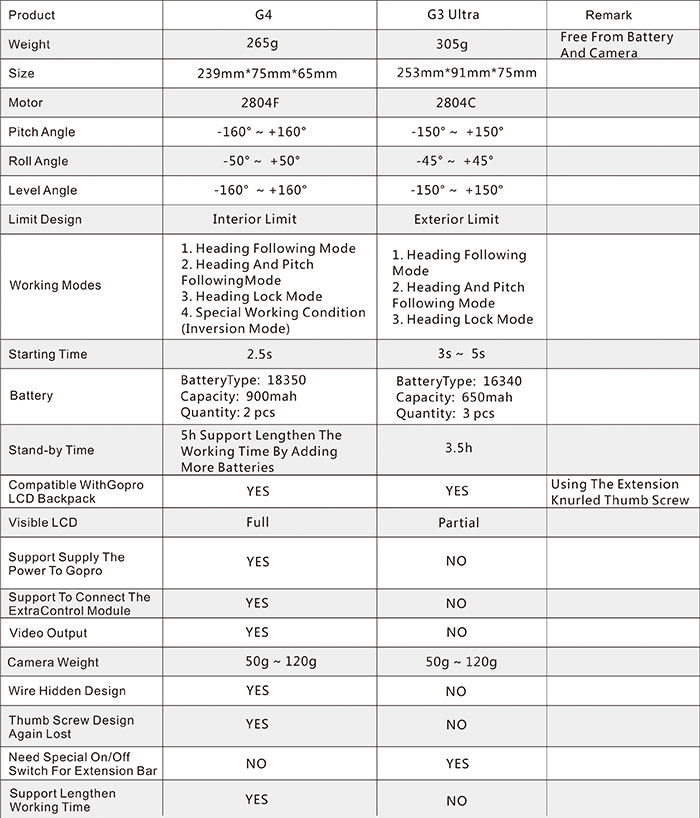 Includes:
1 x FY-G4 3-axis Gimbal
1 x battery charger
1 x USB cable
1 x charging cable for GoPro
1 x pair standard hand driven screw
1 x pair extended length hand driven screws
1 x instruction manual
* This is a gimbal only,
camera etc. are not included
.
Requires:
3 x batteries (type 16340, 1800mAh or similar, battery diameter 16mm, length 34mm, voltage 3.7V per cell)
* The batteries are NOT included in this kit, this overrides any discrepancies mentioned elsewhere like packing, instruction manual etc.
Please explain:
Messages of this section are not monitored by HiModel, it is for review and discussion among customers only.
Upload Image:
Post as: Review Question
Select grade: star(s)
Anonymous: Yes No