Browse By Brands:
Lithium Polymer (Li-poly) & Ni-Mh battery packs, battery chargers, Electric (Brushless) Motors, Electric Speed Controllers ( ESC ), Gyros, Electric Accessories etc.

Electric


Electric Brushless Motors - Inrunner

LEOPARD 4-pole 4074/1645KV Sensored Inrunner Brushless Motor LBPS4074/1645
Specifications:
Model: LBPS4074/1645
Max Amps(A): 86A
Max voltage: 25.2V
Max Power: 2600W
Ideal current: 2.3A @ 7.4V
KV(RPM/Volt):1645KV
Shaft Diameter (mm): 5
Shaft Length: 20mm (outside the motor)
Diameter×Length (mm): 39.8 x 73.8
Weight: 374g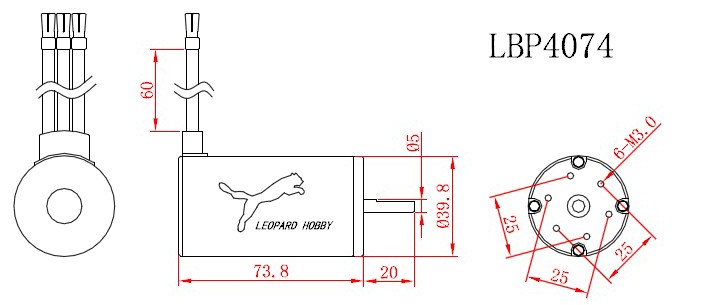 Includes/Requires:
Includes:
1 x motor
3 x connectors

Customer Reviews:
Please explain:
Messages of this section are not monitored by HiModel, it is for review and discussion among customers only.
Upload Image:
(Up To 5 Files, only .jpg/.gif/.png files are accepted and sizes below 2MB for each)
Post as: Review Question
Select grade: star(s)
Anonymous: Yes No
©2003-2022 HiModel All Rights Reserved.