Radio Sets, Receivers, Servos, Gyros and Crystals etc.
FrSky Tandem X20 series HD radio system provides the perfect solution for FPV flying and pilots preferring an easier operation with fewer devices. The HD version of the X20 radio system includes an integrated FPV screen supporting 720p 60FPS video quality, removing the need for a standalone FPV screen. When combining the HD 720p 60FPS video with near 0ms low latency digital video transmission technology, the X20 HD radio will provide more enjoyment and confidence when FPV flying tours. The built-in video receiver module is compatible with all HDZero video transceiver (VTX) products.
The X20 HD radio package includes a 5.8G antenna kit. The circularly polarized directional antennas ensure that the radio receives optimum video transmission signals, even in complex RF environments. The HD version of the X20 radio also provides an HDMI output which can be used to easily transfer the HD video to an external monitor or device if required, this provides a great solution if you wish to use your existing FPV goggles which support HDMI-in, removing the need for separate HDZero video receiver attached to your goggles.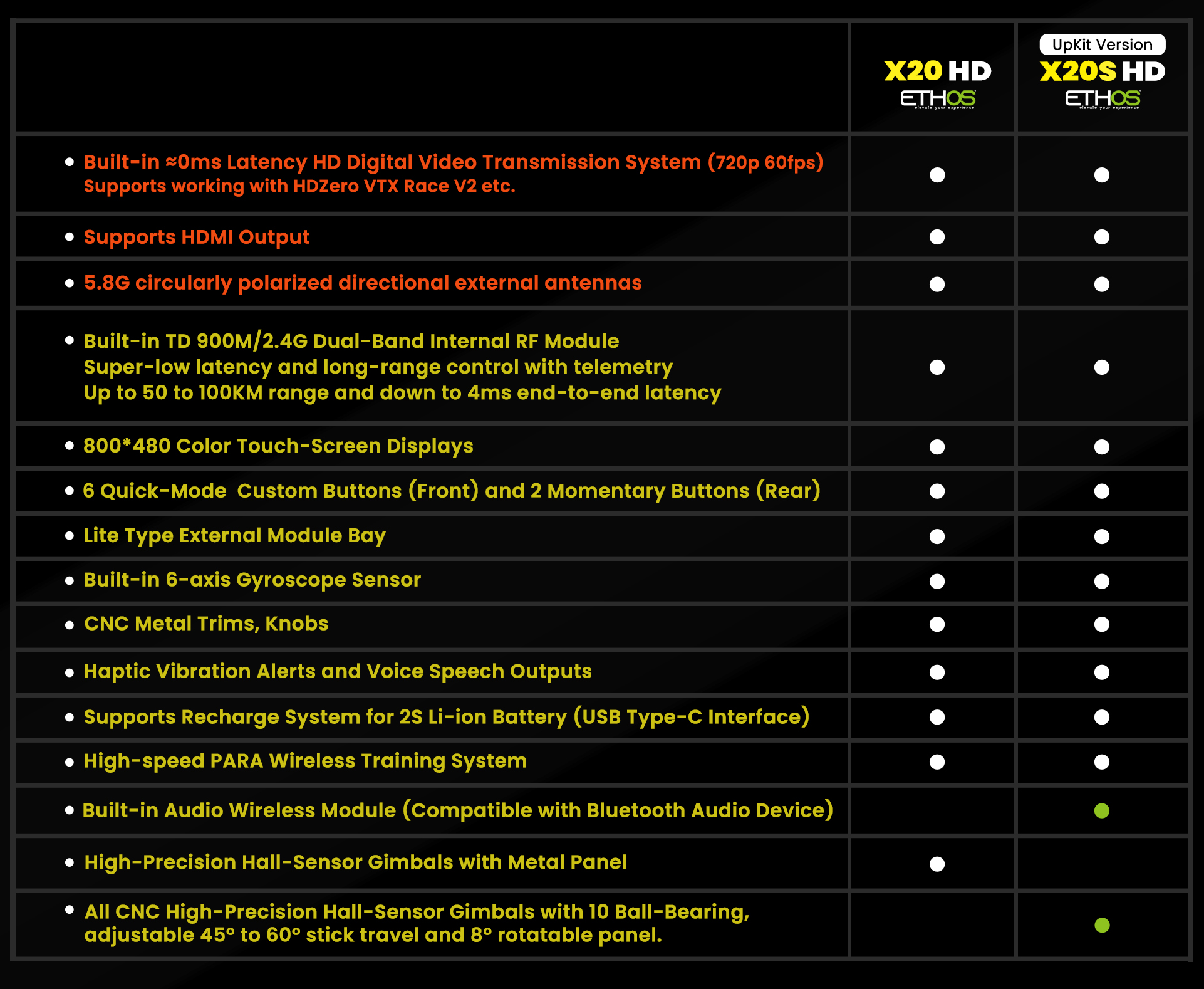 FEATURES
:
Built-in near 0ms latency HD digital video transmission system (720P 60FPS)
Supports working with HDZero VTX Race V2 , etc.
(Note: the range is dependent on the VTX power setting in use.)
Supports HDMI Output
5.8G circularly polarized directional external antennas
Built-in TD 900M/2.4G Dual-Band Internal RF Module
Supports Multiple Working Modes
2.4G ACCST D16 Mode (Compatible with ACCST Receivers with D16 V2 or later FW)
2.4G ACCESS Mode (Compatible with ACCESS Receivers)
900M ACCESS Mode (Compatible with ACCESS R9 868/915MHz Receivers)
(Capable of simultaneous working under ACCESS mode)
2.4G&900M TD Mode (Compatible with TD Receivers)
Super-low latency and long-range control with telemetry
Up to 50 to 100KM range and down to 4ms end-to-end latency
800*480 Color Touch-Screen Displays
6 Quick-Mode Custom Buttons (Front) and 2 Momentary Buttons (Rear)
Lite Type External Module Bay
Built-in 6-axis Gyroscope Sensor
All CNC Metal Trim Knobs
Haptic Vibration Alerts and Voice Speech Outputs
Supports Recharge System for 2S Li-ion Battery (USB Type-C Interface)
High-speed PARA Wireless Training System (Compatible with FreeLink App3.0)
High-Precision Hall-Sensor Gimbals with All-CNC Metal Panel
ETHOS: The more powerful, Flexible and Intuitive OS for your radio.
Clear and Intuitive UI Design
Supports Dual Operation Modes of Radio Display (Touch and Non-Touch)
Supports Multi-Language Switching
Hardware/Software Version and Factory Version Detection
Supports running LUA Scripts
1sdsfasf