Browse By Brands:
Radio Sets, Receivers, Servos, Gyros and Crystals etc.

Radios


RF Module / Receivers & Accy

FrSky Archer Plus R12+ 12-CH Receiver
Features:
The Archer line of receivers has been enhanced further with the addition of the new Archer Plus Series.
The Archer Plus series receivers include some new features. Firstly an enhanced anti-RF-Interference capability can offer a more solid RF performance, and this is in addition to existing anti-interfere performance in the spark ignition process. These Plus series receivers are also with both ACCESS and ACCST D16 modes, where the RF protocol is smart matched during the binding process on the radio. With the Black-Box function, some basic flight data (like Power & Signal related) can be well preserved.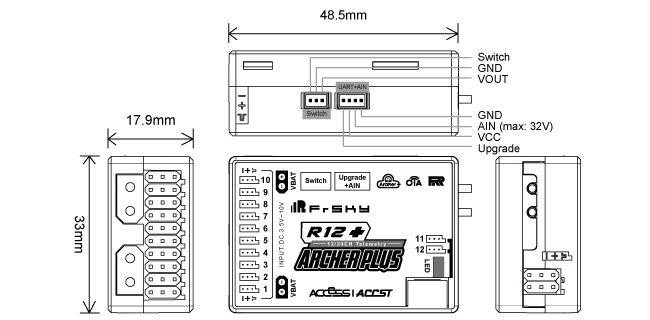 The R12+ receivers have 12 configurable channel ports*, each channel port can be assigned as PWM, SBUS, FBUS, or S.Port. The R12+ supports full-range signal strength with dual detachable antennas and guarantees optimal antenna reception and range. The R12+ can be used as a Primary receiver in a redundant solution by setting a port (Channel Port 1) as SBUS In and connecting to any other FrSky receiver equipped with an SBUS Out port. With the FBUS protocol, the Archer Plus series receivers can open up the possibility of seamlessly pairing with multiple telemetry devices (XACT servos, ADV Sensors, etc.) as well as simplifying the builds setup.
The R12+ also provides a socket that can be used to connect the switch panel to enable the built-in Power Switch function, and it uses a set of standard XT30 plugs which also provides a safe and efficient way to provide power. By utilizing together with current overload wires on the channel ports, the connected device can be safeguarded.
(*Some features require the support of ACCESS and ETHOS.)
FEATURES:


Enhanced Anti RF-Interference Capability with more Solid RF Performance
Smart-Matched ACCESS & ACCST D16 modes
Basic Black-Box Data Record Function
Built-in Power Switch Function | Match with Different External Switches (Optional)
12 Configurable Channel Ports* (PWM, SBUS, FBUS, or S.Port)
(Note: In ACCST mode, SBUS Out is assigned on Pin11 & S.Port is on Pin12.)
Supports Signal Redundancy (SBUS In)
Full Control Range with Telemetry (FBUS / S.Port)
Anti-Interference Capability in the Spark-Ignition Process
Over-The-Air (OTA) Firmware Update
External Battery/Device Voltage Detection
Specifications:
FrSky Archer Plus R12+ 12-CH Receiver
Dimension: 48.5×33×17.9mm (L×W×H)
Weight: 21.3g
Operating Voltage Range: 3.5 -10V (Recommend 2S Li-Batteries)
Operating Current: <105mA@5V
Continuous Current: ≤20A (power the device) | Instaneous Current: ≤40A (power the device)
Voltage Measurement Range via AIN2 (External device): 0-35V (Battery Voltage Divider Ratio: 1:10)
Antenna connector: IPEX1
Dual XT30 Power Input Connector
Compatibility: FrSky 2.4GHz ACCESS / ACCST D16 capable transmitters
12 Configurable Channel Ports (ACCESS mode)
CP1: PWM / SBUS Out / FBUS / S.Port / SBUS In
CP2-12: PWM / SBUS Out / FBUS / S.Port
SBUS Out (Supports 16CH / 24CH mode)
Includes/Requires:
Includes:

1 x FrSky Archer Plus R12+ receiver

Customer Reviews:
Please explain:
Messages of this section are not monitored by HiModel, it is for review and discussion among customers only.
Upload Image:
(Up To 5 Files, only .jpg/.gif/.png files are accepted and sizes below 2MB for each)
Post as: Review Question
Select grade: star(s)
Anonymous: Yes No
©2003-2023 HiModel All Rights Reserved.