Browse By Brands:
Multi-rotor aircrafts and accessories

Multi-rotors


DJI A2 GPS PRO PLUS Module
Features:
A2 GPS PRO PLUS Module
DJI has released a new GPS module for the A2 flight control system. This new module, called the A2 GPS PRO PLUS, offers a significant performance upgrade over the current A2 GPS PRO. Read on for details on this new system and the tests DJI performed to verify the performance of this new module.
A2 GPS PRO PLUS Upgrades
1) Hardware

A new generation chipset is used to improve anti-interference, satellite acquisition and positioning accuracy.
Improved filtering to minimize interferences.
Optimized receiving chain to gather better data and increase sensitivity.
2) Software
The app assistant software (version: 1.1.22) and iPad ground station (version: 1.4.62) now have a new "SNR Health Index" and "SNR Fluctuation Index" screen that monitors GPS signals. By referring to these two values, users can find the best places to takeoff and fly their aircraft. (SNR Wiki)
'SNR Health Index' reflects the GPS signal strength captured by the GPS receiver. A larger number indicates a stronger GPS signal received. We highly recommend you only takeoff when the SNR Health is greater than 35. (SNR Health Wiki)
'SNR Fluctuation Index' reflects the overall stability of the current GPS signal. A smaller number indicates the signals have less fluctuation, which means a more stable GPS signal captured. (SNR Fluctuation Wiki)
These values change in real time with aircraft maneuvers and changes in environmental interference.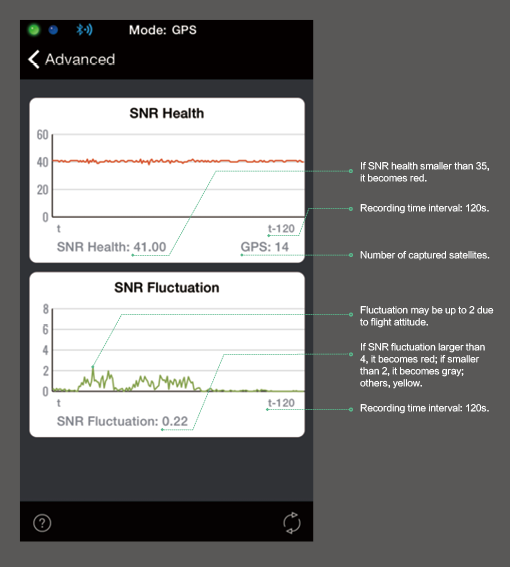 A2 GPS PRO PLUS ADVANTAGE
1) Catch more satellites.
2) The SNR Health Index is higher, and the SNR Fluctuation Index is smaller and more stable.
3) Better anti-interference capabilities.
This GPS is used, but has been tested to DJI Specifications. Excellent working condition. Due to electronic nature of this item there are no refunds, no returns and no exchanges except due to misrepresentation.

Specifications:
DJI A2 GPS PRO PLUS Module
Includes/Requires:
Includes:
1 x GPS PRO Plus Module


Customer Reviews:
Please explain:
Messages of this section are not monitored by HiModel, it is for review and discussion among customers only.
Upload Image:
(Up To 5 Files, only .jpg/.gif/.png files are accepted and sizes below 2MB for each)
Post as: Review Question
Select grade: star(s)
Anonymous: Yes No
©2003-2018 HiModel All Rights Reserved.