Browse By Brands:
Lithium Polymer (Li-poly) & Ni-Mh battery packs, battery chargers, Electric (Brushless) Motors, Electric Speed Controllers ( ESC ), Gyros, Electric Accessories etc.

Electric


Lithium Polymer Battery ( Li-Poly, LIPB) Chargers

SkyRC AC 100-240V Multi-function 2-4S 65W 6A Charger S65
Features:

Specifications:
SkyRC AC 100-240V Multi-function 2-4S 65W 6A Charger S65
S65 Charger
This product is suitable for charging and discharging LiFe/ Lilon/ LiPo/ LiHV/ NiMH/ NiCd/ PB batteries. For Pb battery, AGM Charge and Cold Charge mode are available.
Size and Weight
Case Material: Plastic
Case Size: 118*115*45mm
Weight: 315g
Power
Input Voltage: AC 100-240V
Charge Wattage: 65W
Discharge Wattage: 10W
Battery
Battery Types/Cells:
LiPo/LiFe/LiIon/LiHV: 2-4 cells
NiMH/NiCd: 6-8 cells
Pb: 3-6 cells
Battery Capacity Range:
NiMH/NiCd:100-50000mAh
LiPo/LiIon/LiFe/LiHV:100-50000mAh
Pb: 100-50000mAh
Charge and Discharge
Charge Voltage
NiMH/NiCd: Delta peak detection
LiPo: 4.18-4.25V/cell
LiFe: 3.58-3.7V/cellLiIon: 4.08-4.2V/cell
LiHV: 4.25-4.35V/cell
Discharge Cut-off Voltage
NiMH/NiCd:0.1-1.1V/cell
LiPo:3.0-3.3V/cell
LiFe:2.6-2.9V/cellLiIon: 2.9-3.2V/cell
LiHV: 3.1-3.4V/cell
Charge Current: 0.1A-6.0A
Discharge Current: 0.1A-2.0A
Balance Cells: 2-4 cells
Balance Current: 300mA/cell Max
Safety Timer: 1-720minutes off
Charge Method:CC/CV for lithium types and lead(Pb) batteries Delta-peak Sensitivity for NiMH/NiCd.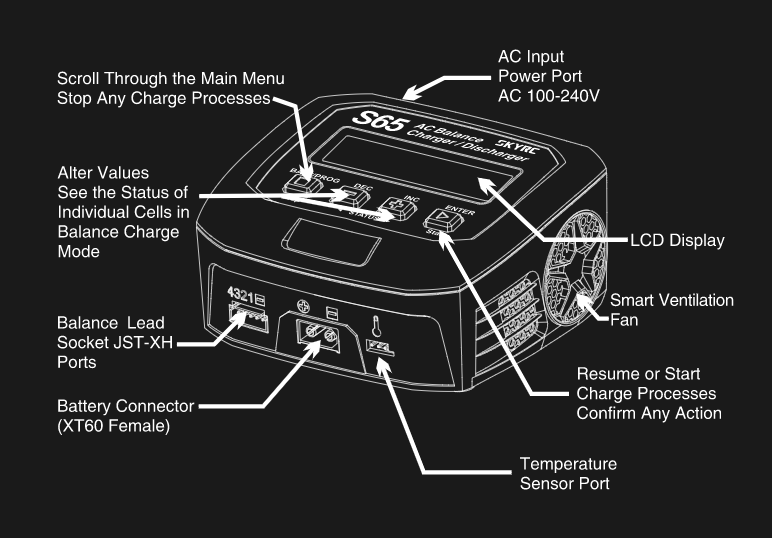 Includes/Requires:
Includes:

1 x charger


Customer Reviews:
Please explain:
Messages of this section are not monitored by HiModel, it is for review and discussion among customers only.
Upload Image:
(Up To 5 Files, only .jpg/.gif/.png files are accepted and sizes below 2MB for each)
Post as: Review Question
Select grade: star(s)
Anonymous: Yes No
©2003-2019 HiModel All Rights Reserved.