Browse By Brands:
Lithium Polymer (Li-poly) & Ni-Mh battery packs, battery chargers, Electric (Brushless) Motors, Electric Speed Controllers ( ESC ), Gyros, Electric Accessories etc.

Electric


Brushless Speed Control (BL ESC) - Air/ Helis

Hobbywing SKYWALKER Series 2-6S 80A Electric Speed Control (ESC) SkyWalker-80A-UBEC
Features:
Features


1 Safety arming feature: Regardless the throttle stick position, the motor will not spin after battery connected.
2 Throttle calibration funtion: Throttle range can be calibrated to be compatible with different transmitters.
3 User programmable.
4 Multiple program methods supported: transmitter stick, LED Program Card. Very easy to program the ESC at home or at the flying field.
5 Compatible with Lipo and NiMH battery.
6 Timing can be changed to be suitable for different brushless motors.
7 Full protection: Low voltage cutoff protection / Over-heat protection / Throttle signal loss protection.
Specifications:
Hobbywing SKYWALKER Series 2-6S 80A Electric Speed Control (ESC) SkyWalker-80A-UBEC
1 Output: Continuous 80A, Burst 100A up to 10 seconds.
2 Input Voltage: 2-6S Lipo, 5-18 cells NiMH.
3 BEC: 5A / 5V Switch mode BEC.
4 Refresh rate of the throttle signal: 50Hz to 432Hz.
5 Max Speed: 210000rpm for 2 Poles BLM, 70000rpm for 6 poles BLM, 35000rpm for 12 poles BLM.
(BLM = BrushLess Motor)
6 Size: 86mm*38mm*12mm.
7 Weight: 82g.
Programmable Items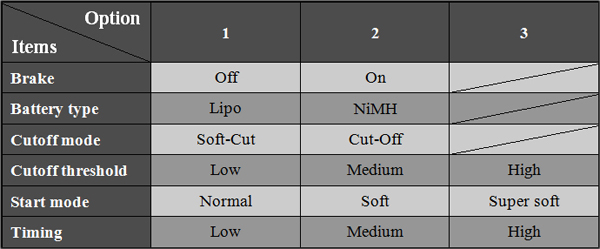 Includes/Requires:
Includes:
1 x ESC
Customer Reviews:
Please explain:
Messages of this section are not monitored by HiModel, it is for review and discussion among customers only.
Upload Image:
(Up To 5 Files, only .jpg/.gif/.png files are accepted and sizes below 2MB for each)
Post as: Review Question
Select grade: star(s)
Anonymous: Yes No
©2003-2023 HiModel All Rights Reserved.