Browse By Brands:
Lithium Polymer (Li-poly) & Ni-Mh battery packs, battery chargers, Electric (Brushless) Motors, Electric Speed Controllers ( ESC ), Gyros, Electric Accessories etc.

Electric


R/C Electric Brushless Motor Systems

HiModel HM29-OL KV1050 Outrunner BL Motor & Variable Pitch Prop System
Features:
This is the airplane 4D flight combo - HiModel HM29-OL KV1050 Outrunner BL Motor & Variable Pitch Prop System
*High performing motor in terms of torque / vs. weight or efficiency by using highest grade magnet.
*Hollow Shaft, it can be used as a standard motor with a prop adaptor (included), and also can be used with variable pitch prop system for 4D flight.
*Mounting frame was changed to the rear, more convenient to mount.
Specifications:
Motor Specs:
Kv1050
Weigh: 57g / 2.0 oz
Dimension: 29mm X 26mm
Shaft diameter(Hollow): 4.0mm
Phase: 3
Pole: 14
No Load Current: 0.7A
Load Current: 30A
Mounting hole spaces: 16mm ( diagonal center to center ) with M3 screws ( Mount and screws are not included )
Magnet Type & Grade: Nv, Iron, Peng 40UH ( Withstand high temperaturer and maintain high efficiency )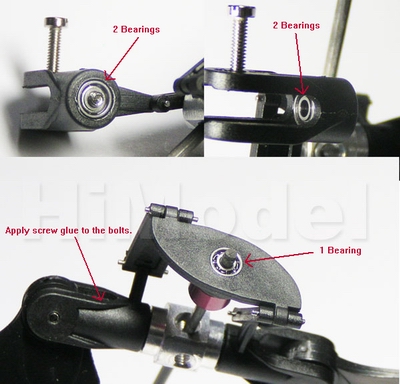 Includes/Requires:
Includes:
1 x brushless motor
1 x 4mm collet type prop adaptor
1 x Aluminum Cross back mount w/ screws
1 x variable pitch prop system

Comments:
DO APPLY SCREW GLUE to all the screws to ensure the reliability and security.
DO check all the screws before every flight.

2006/02/15 HiModel
Customer Reviews:
Please explain:
Messages of this section are not monitored by HiModel, it is for review and discussion among customers only.
Upload Image:
(Up To 5 Files, only .jpg/.gif/.png files are accepted and sizes below 2MB for each)
Post as: Review Question
Select grade: star(s)
Anonymous: Yes No
©2003-2018 HiModel All Rights Reserved.