Browse By Brands:

FPV/ Aerial Photography


CYCLOPS NOVA OSD System W/GPS (Capacity consuming bug fixed)
Features:
This is the latest auto-pilot OSD system from Cyclops.
* As the version may change from time to time, the version information on this page may become out of date with time going, but due to the direct link with the manufacturer and fast stock cycling, the ones we sell should be the latest available version.
* The capacity consuming bug has been fixed since the version of 27th March 2012 (official firmware version V1.1).
The
firmware upgrader
is now available, so customers who have the older version can upgrade their firmwares with this device.
* Customers who bought this product before 27th March 2012, and having the mah consuming bug, can open a help ticket via the online help system, and provide us your order number, we can supply you a firmware upgrader free of charge.
Specifications:
CYCLOPS NOVA OSD System W/GPS
Support Auto-return function
*IMPORTANT NOTICE: The polarity marked on the earlier version (before early 2012) of instruction manual was found incorrect, the correct polarity should be read as shown on below diagram.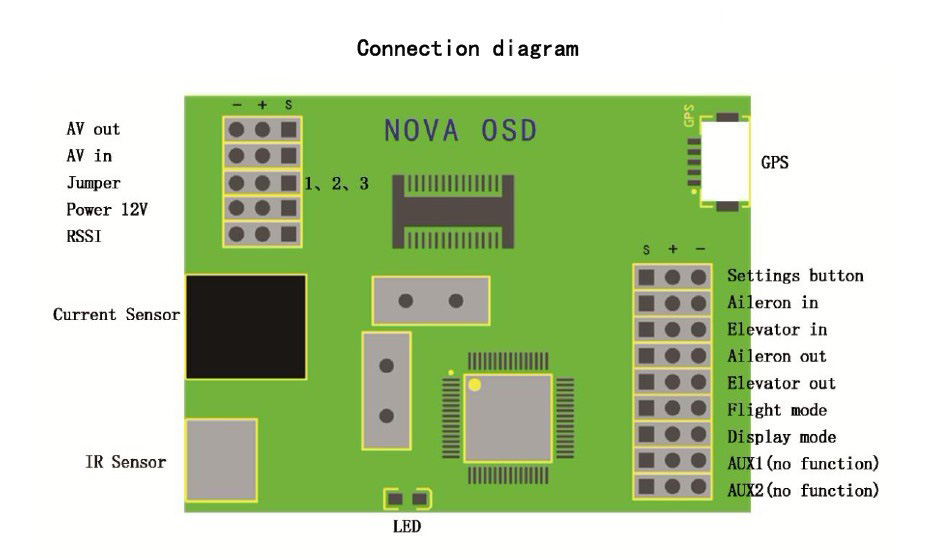 The correct version of
instruction manual can be found here.
Includes/Requires:
Includes:
1 x NOVA OSD main board (The latest version firmware as of April 2012 is V1.1)
1 x current sensor (100A)
1 x 10Hz GPS module
1 x infrared sensor
1 x wire set
* No printed manual come with this product, refer to
Electric version instruction manual
.
Comments:
Regarding firmware version number:
Hint:
There are two or more groups of firmware version numbers, one is the official version number, another is OEM version, the OEM version may call it a newer version simply because some changes like displaying a seller's identity like logo or website address etc., yet the core programe and function are still same as the official version with lower version number. In other words, a higher number OEM version does not necessary mean it is a newer version compare to the official version might with lower version number, as the version number in this case are nominated by different entities.

The version number we declare for this product is official version, so please verify is yours the official version or a OEM version before comparing the firmware version.
Customer Reviews:
Please explain:
Messages of this section are not monitored by HiModel, it is for review and discussion among customers only.
Upload Image:
(Up To 5 Files, only .jpg/.gif/.png files are accepted and sizes below 2MB for each)
Post as: Review Question
Select grade: star(s)
Anonymous: Yes No
©2003-2018 HiModel All Rights Reserved.