Browse By Brands:

FPV/ Aerial Photography


BGC Universal 3-axis/ 3-axle Brushless Gimbal Controller | V2.2B2 (Firmware upgradeable)
Features:
- With latest official firmware
- Firmware upgrade is supported when newer official version firmwares available
For more information and trouble shooting, please refer to developer's official website:
http://www.simplebgc.com/eng/downloads/

Basic welding/ironing skills are required.
Specifications:
BGC Universal 3-axis/ 3-axle Brushless Gimbal Controller | V2.2B2 (Firmware upgradeable)
Weight: 17g (including sensor and wire)
Main board size: 50 x 50mm
Power input: max 4S/ 16.8V (12V/ 3S is suggested)

Connection diagram


a. Connection with other official accessories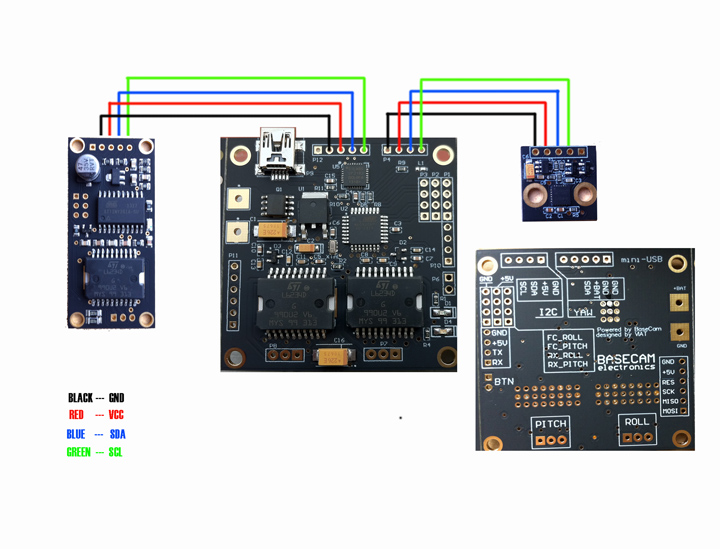 b. Connection with BGC2.0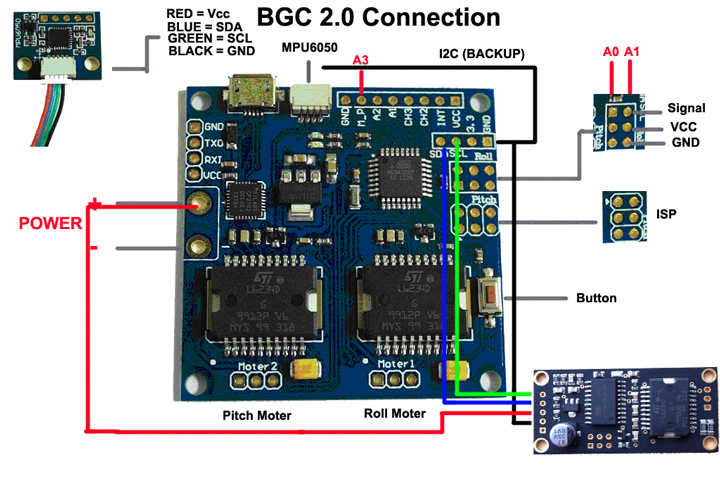 General Installation hint: Sensor chips side facing UP (below picture is taken from previous version controller board and for reference only).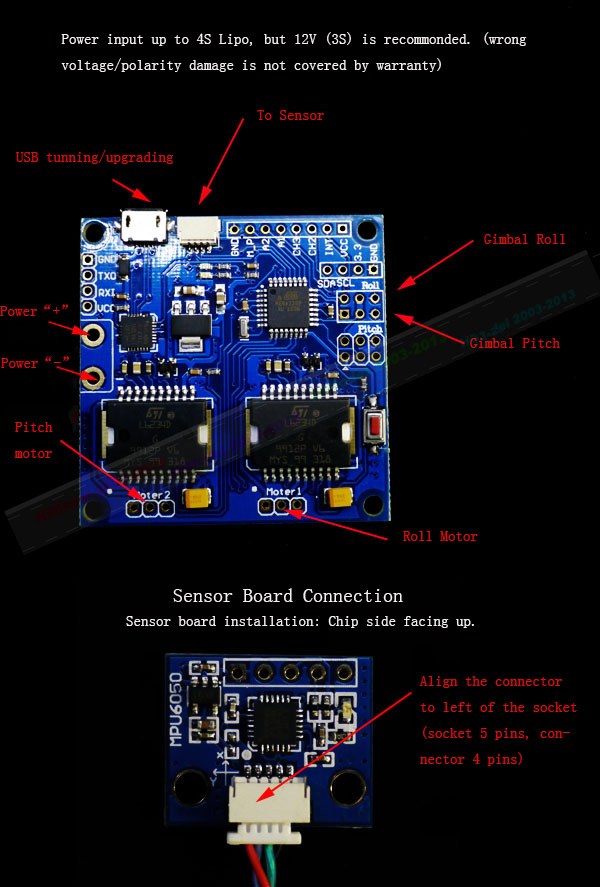 Note about brushless gimbals & Controllers:

Brushless gimbals and controllers are very new to the market and it is an emerging technology. You will need some patience and effort to get it to work as seen on youtube etc.. THIS IS NOT A PLUG AND PLAY DEVICE!
You will need some understanding of Microsoft windows drivers, software settings and tuning the gimbal software to your liking and to suit your multirotor.
Getting things to work the way it's supposed to will be YOUR RESPONSIBILITY. Please understand this before you purchase any Brushless Gimbal Related Item.




Includes/Requires:
Includes:

1 x GBC Universal Brushless Gimbal Controller main board
1 x 3rd axis expansion board
1 x sensor
1 x metal terminals

Requires:

1 x sensor wire (length may vary from your systems)



Comments:
Special hint on firmware upgrading error

Some customers report that they received an error code "-1073741515" when they try to upgrade the firmware to the latest version, this is caused by compatibility between GUI software and Microsoft .net edition. The previous edition GUI (2.2b or older) is designed to run under .net 3.5, it doesn't compatible with .net 4, if your .net is upgraded to version 4 (.net upgrading could be done automatically without your acknowledge ), there are two methods can resolve this issue:
Method 1:
Download the latest 2.3b4 version GUI software, then you can flash with official firmware, this version GUI already support .net 4.0.
or Method 2:
Use official recommended software Xloader, you can download the Xloader from official website, when use this tool, when you click "upload", you may receive a message "Upload failed", this is because the main board is rebooted, and actually the upgrading is success, you can check the latest firmware version with your parameter review software.


Customer Reviews:

Please explain:

Messages of this section are not monitored by HiModel, it is for review and discussion among customers only.

Upload Image:
(Up To 5 Files, only .jpg/.gif/.png files are accepted and sizes below 2MB for each)

Post as: Review Question

Select grade: star(s)

Anonymous: Yes No




©2003-2023 HiModel All Rights Reserved.