Radio Sets, Receivers, Servos, Gyros and Crystals etc.
WFT09 9-Channel TX W/ASSAN 2.4G RF Module Combo

Added:2008/09/01
Updated:2009/03/20



Tags: WFT09 9-Channel TX WFT09 Transmitter WFLY 2.4GHz
---
Choose other components to build your saving combo:
This is the WFLY 9-channel transmitter and ASSAN 8-channel 2.4G RF module combo.
Transmitter: WFT09
RF module: ASSAN 2.4G X8F
* To provide most flexibility to our customers, we do not include the receiver in this combo, so you can choose the receiver suits your need best from the list above.
* As this transmitter can only support up to 8-channels in PPM mode, so when use the 2.4G RF module (PPM mode), this system can only support up to 8 channels even you use a 9-channel receiver.
* Use ASSAN brand 2.4G receivers only, as the 2.4G receivers can only bind with their own RF modules.
* Both mode 1 & mode 2 are available, mode 2 will be provided by default for international orders, you can specify the stick mode by leaving a message in the Remark field on the last step when place the order.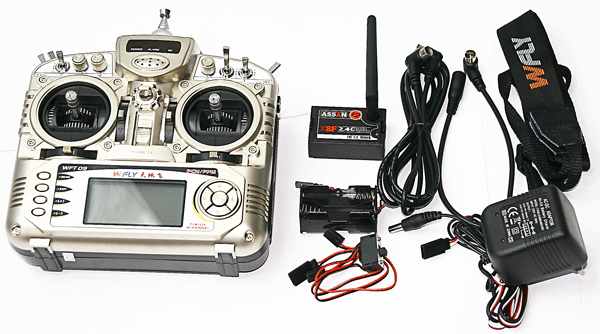 Includes:
1 x transmitter
1 x 2.4G RF module
1 x transmitter battery holder
1 x Receiver battery holder
1 x neck strap
1 x simulator adaptor
1 x training cord

Requires:
1x ASSAN 2.4G receiver
Please explain:
Messages of this section are not monitored by HiModel, it is for review and discussion among customers only.
Upload Image:
Post as: Review Question
Select grade: star(s)
Anonymous: Yes No