Lithium Polymer (Li-poly) & Ni-Mh battery packs, battery chargers, Electric (Brushless) Motors, Electric Speed Controllers ( ESC ), Gyros, Electric Accessories etc.
4000KV Outrunner Brushless Motor for 450 Class Helicopter Type H2836

Added:2009/10/24
Updated:2011/05/12



Tags: 450 helicopter motor heli upgrading motor
1. HB2836 inherits HB2835 'violence, energy-saving and efficient' characteristics; the same time using a new shaft and bearing tight fit, greatly to avoid wear and improve the motor efficiency.
2. Imported bearings used in all Germany, in particular, Hard custom stainless steel motor shaft;
3. Exquisite laser engraving shell, eliminating the need for tape sticker may be open to the impact of the motor even more noble qualities.
Model: H2836 4000kv
KV (rpm/v): 4000
Max current: 45A
Max Power: 450W
Non-load current: 3.4A
Lipo Battery (cell): 2S-4S Li-poly
Max Current (A): 46
Weight: 71g / 2.5oz
Shaft Diameter(mm): 3.17
Pinion gear recommendation: 11T/12T/13T
Application sample: 450 class electric helicopters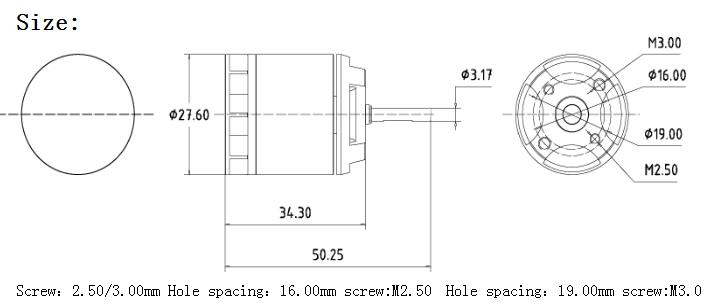 Includes:
1 x motor
3 x bullet male connectors
3 x bullet female connectors
1 x 11T pinion gear
1 x 12T pinion gear
3 x pieces shrinking tubes
Please explain:
Messages of this section are not monitored by HiModel, it is for review and discussion among customers only.
Upload Image:
Post as: Review Question
Select grade: star(s)
Anonymous: Yes No