Radio Sets, Receivers, Servos, Gyros and Crystals etc.
FrSky 2.4G 8-channel Futaba FASST Compatible TF Receiver TFR8-S (Parallel connection capable)

Added:2010/12/02
Updated:2013/04/10



Tags: FrSky 2.4G 2.4GHZ Receivers FASST compatible Futaba compatible tfr8s tfr8-s parallel connection receiver
THIS IS THE FRSKY FASST 8-CH RECEIVER TFR8-S (SUPER EDITION ).

- Compatible with:
All FASST 2.4G systems including ground systems like 3PK, 4PK.
FrSky: TF-8M, TF-14M
- Parallel with TFR8/TFR8-S to become a 14 channel FASST compatible receiver.
- Improved capability of anti-interference
- Firmware upgradable
Model: TFR8-S
Number of Channels: 8
Weight: 14.9g
Dimension: 54*30*15mm
Operating Voltage Range: 4.0V-10.0V
Latency: 14ms (FS)
7ms (HS)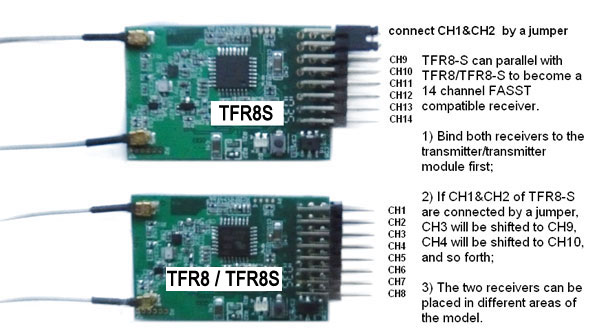 Includes:
1 x receiver TFR8S
Please explain:
Messages of this section are not monitored by HiModel, it is for review and discussion among customers only.
Upload Image:
Post as: Review Question
Select grade: star(s)
Anonymous: Yes No