Radio Sets, Receivers, Servos, Gyros and Crystals etc.
2.4G Radio Signal Amplifier / Signal Booster - White

Added:2014/04/09
Updated:2014/04/09



Tags: 2.4g radio signal amplifier signal booster
Typical application:
Increase the range and reliability of your 2.4G radio system, especially for FPV application.

Special feature:
- Custom made 2.4G radio signal amplifier, especially designed for long range application like FPV.
- High speed receiving and transmitting auto-switching circuit, can switching between receiving and transmitting modes automatically.
- With the increasing on-board wireless electronic devices like FPV application, the interference between different devices also getting more and more severe, and the radio system range and reliability also greatly affected, this amplifier is just designed to increase the range and reliability of your radio system.

* Hint:
1. The module requires 3.7-5.5V power supply, higher than this voltage range may damage the module permanently and NOT covered by warranty.
2. When use BEC unit as power supply, only high quality BEC can be used otherwise it may introduce interference to the system.


2.4G Radio Signal Amplifier / Signal Booster - White
Receiving gain: 10dB
Transmitting gain: 11dB
Receiving figure:
≤3.0dB;
Input power range:
4dBm-20dBm
Peak power: 33dBm; 2W (input power plus amplifier power)
Power supply: 3.7-5.5V (High quality UBEC is needed when use a BEC module as power supply)
Antenna gain: 6DBI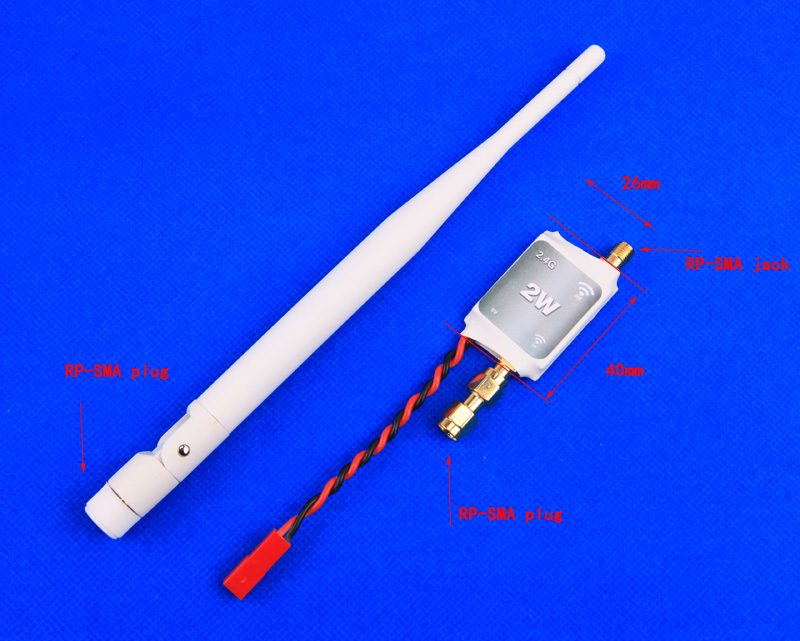 Includes:
1 x amplifier module
1 x antenna adaptor
1 x 6db antenna
---
Primary Additional Accessories for the completion of the 2.4G Radio Signal Amplifier / Signal Booster - White
Please explain:
Messages of this section are not monitored by HiModel, it is for review and discussion among customers only.
Upload Image:
Post as: Review Question
Select grade: star(s)
Anonymous: Yes No