Browse By Brands:
Electric Airplanes, Nitro Powered airplanes and accessories etc.

Airplanes


EAGLE A3 Pro 6-axis Fixed Wing Airplane 32-bit Gyro & Stablizer
Features:
The new A3 Pro is a high-performance and functional 6-axis gyro and stabilizer designed for R/C airplanes. This gyro can be used with nearly any size and type of R/C airplanes and it will make the flying even easier and comfortable.

32-bit MCU, high-precision 6-axis MEMS sensor, improved hardware platform and new firmware solution provide more reliable performance.
6 flight modes, including Gyro-Off mode, Normal mode, Trainer mode, Atti-Lock mode, Auto-Level mode and Auto-Hover mode.
3 wing types: standard fixed-wing, delta-wing(flying-wing), v-tail.
Compatible with most standard receivers, standard PPM single-line receivers and Futaba's S.Bus and S.Bus 2 receivers.
Separated basic gain adjustment for aileron, elevator and rudder.
Remote master gain supported.
Sub Trim and Travel Limit settings supported.



Specifications:
EAGLE A3 Pro 6-axis Fixed Wing Airplane 32-bit Gyro & Stablizer
Main Controller: 32-bit MCU
Sensor: High-precision 3-axis gyroscope and 3-axis accelerometer
Gyroscope Scale Range: ±2000 dps
Accelerometer Scale Range: ±4g
PWM Output: 920uS ~ 2120uS with 1520uS center length / 50 ~ 333Hz
Input Voltage: 4.8V ~ 8.4V
Operating Temperature: -10 ℃ ~ 50 ℃
Size: 43×27×14mm
Weight: 10g (excluding wires)
Connection:

A3 Pro has 5 separate input channels which used to connect to the receiver and 3 output channels for servos, and supports standard receivers, PPM and Futaba's S.BUS(or S.BUS 2) single-line receivers. [AIL], [ELE] and [RUD] should be connected to aileron, elevator and rudder channels of the receiver. [MOD] is used to change the flight mode using a 3-position switch of the transmitter. Usually you can connect it to the gear or any of aux channels of the receiver. Of course, you have the option to not connect this channel, if so, the gyro will always work in the mode which is set for position-1 in the Setup Menu. [PPM/Bus/G] is used for remote master gain, it allows you to adjust the master gain of the gyro by using a proportional knob or slider of the transmitter. However connecting this channel is not a must if you don't want to change the gain in the flight. [PPM/Bus/G] is also used as the input channel when a futaba's s.bus or PPM single-line receiver connection is being used.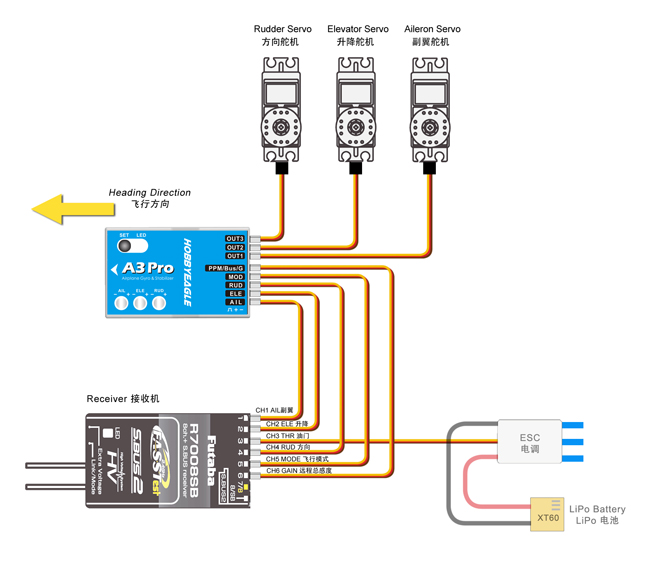 Includes/Requires:
Includes:
1 x stablizer A3 Pro
5 x connection cables

Customer Reviews:
Please explain:
Messages of this section are not monitored by HiModel, it is for review and discussion among customers only.
Upload Image:
(Up To 5 Files, only .jpg/.gif/.png files are accepted and sizes below 2MB for each)
Post as: Review Question
Select grade: star(s)
Anonymous: Yes No
©2003-2019 HiModel All Rights Reserved.