Browse By Brands:
Multi-rotor aircrafts and accessories

Multi-rotors


JCX-M6 Flight Controller for Airplane
Features:
JCX-M6 Flight Controller for RC Airplane RC Model Plane FPV Fixed-wing Airplane

JCX-M6 is a flight controller especially designed for fixed-wing airplanes. It can perform calculation for flying wings, elevators, and rudders and output compensation rudder volume for channels in real time to facilitate stability of airplanes during flight. JCX-M6 features special flight assistance function which can help control flight modes. Inverted flight, slanting flight, and hanging flight are available without compromise. Under a fourth or fifth wind force, airplane KT330 can still have inverted flight, slanting flight, and hanging flight. With proper power and driving force, wind is not a problem now. fixed wings, flying wings (triangular wings), and V-tails (aero-engine airplanes, CESSNA, and 3D devices) are supported.

Functions:

1.Stable flight: In enhanced-stability mode, the gyroscope automatically adjusts to compensate for fixed wings, elevators,and rudders. This enhances wind-resistance capability and reduces speed failure to allow for stable flight. 3D flights such as inverted flight, slanting flight, and hanging flight become easy and do not compromise the controllability of airplanes. Flight
become so easy for us.

2.Stunt flight assistance: Stunt flight modes, besides facilitating stability of flight, feature the flight locked function by high-precision digital gyro automatically locking the channels of Aileron, Elevator, and Rudder. This function makes inverted flight, slanting flight, hanging flight, and even 360-degree rotation available without compromise which indicates a more accurate flight control with flexibility at the same time. Take off and landing become quite easy, if without considering center of gravity had adjust, the difficult flight's plane also will be easy to control. More information will be demonstrated in the 8th item of Notice for the first use.

3.Independent gyro gain adjustment potentiometer and the algorithm of software gyro gain make the gyro into its best automatically.

4.4-digit DIP switcher makes the functional settings for board become easy and convenient.

5.Controlling switcher of flight manual is used through the channel of on-and-o仟 on the remote control to controlthe start function. When at high altitudes, flight manual control is able to be achieved by this switch so that you can feel the flight tunctions of plane whether it is controlled or not, practice flight control in none-flight manual mode, and improve your skills easily.

6.Red and blue LED lights make it easier to tell the work mode and the opposite.

7.Its small size of 30x42mm, the weight of 6g, and perfect configuration make it easily to be installed and used in any size of planes.

8.lt is supportive to various types of fixed-wing, flying-wing,and V-tail.
Specifications:
- Dimension: 30 x 42 mm
- Weight: 6 g
- Voltage: 4-9 V DC
- Current:40 MA(max)
- Sample Rate of Gyro: 2 KHz
- PWM Input: 50Hz PMW
- PMW Output:50Hz PMW
- Operating temperature: -25℃ to 80℃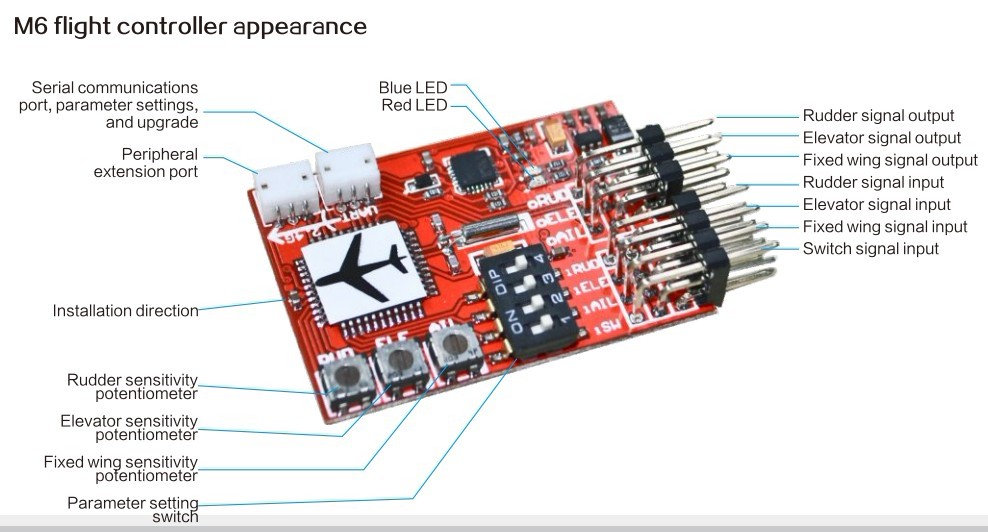 Includes/Requires:
Customer Reviews:
Please explain:
Messages of this section are not monitored by HiModel, it is for review and discussion among customers only.
Upload Image:
(Up To 5 Files, only .jpg/.gif/.png files are accepted and sizes below 2MB for each)
Post as: Review Question
Select grade: star(s)
Anonymous: Yes No
©2003-2018 HiModel All Rights Reserved.