Car & Truck Engines, Airplane & Helicopter Engines ( 2 Stroke and 4 Stroke) , Marine Engines and Glue Plugs, Engine Accessories etc.
RCGF 20cc Petrol/Gas Engine for Radio Control Aeroplane - Rear Induction V2

Added:2011/01/14
Updated:2017/09/01



Tags: RCGF 20CC petrol engine gas engine version 2 V2
THIS IS VERSION 2 (V2) RCGF20CC ENGINE.
Parameter:
Type : 2 cycle piston valve type gasoline engine for airplane only
Displacement (cc) : 20cc
Bore x Stroke (mm): 32mm X 26mm
Carburetor: RCGF Pump (Diaphragm butterfly valve type)
Ignition : DC-CDI (computer controlled auto advance, electronic ignition system)
Power supply: 4.8 - 6V
Maximum output: 2.6hp/ 1.95KW
Speed range: 1500 to 9800RPM
Gasoline version: pre-mixed fuel, 25-40 gasoline :1 (90 octane gasoline)
Weight (with ignition & muffler): 920g
Weight (without ignition & muffler): 720g
Propeller: 15x 6 9500RPM/ 16x 6 9000rpm (standard two leafs prop)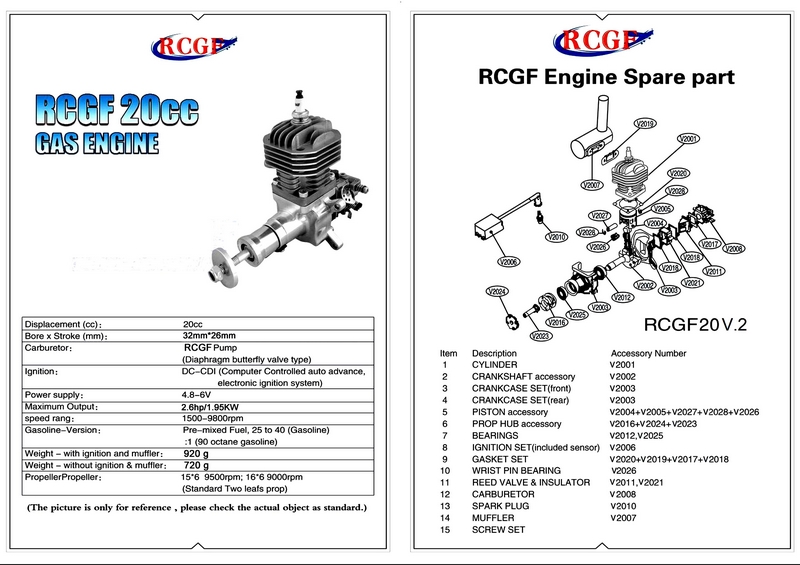 Includes:
1 x engine
1 x carburetor
1 x muffler
1 x CDI
1 x glow plug
4 x standoffs
Please explain:
Messages of this section are not monitored by HiModel, it is for review and discussion among customers only.
Upload Image:
Post as: Review Question
Select grade: star(s)
Anonymous: Yes No