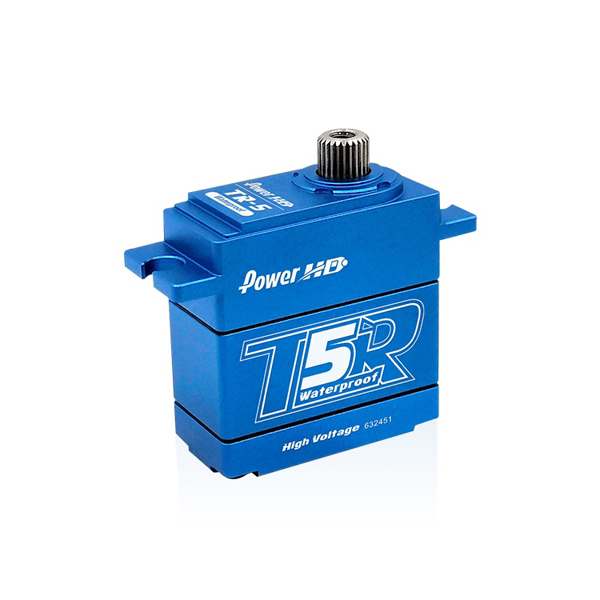 SKU
POWER-TR5
Brand
Power HD
Added
2022/05/27
Updated
2022/05/27
 
Features:
Power HD Introduces New All Metal Mini High Voltage Servo TR-5
Power HD waterproof series TR-5 mini servo, perfectly compatible with TRAXXAS 1/16 series models, can be used in small scale model cars and boats that need waterproof function. The output signal line at the bottom of the servo is 18CM long, the output teeth are standard size servo size, the spline is 25T metal teeth perfectly compatible with the original servo arm, the voltage is compatible with 4.8-8.4v, the torque is 8.0KG and the speed is 0.07s at 7.4v.


Specifications:
PowerHD 35g/8.8kg/ .06sec All Metal HV Waterproofing Mini Servo TR-5


Torque(4.8V): 3.8 kg-cm ( 52.8 oz/in)
Torque(6.0V): 6.0 kg-cm ( 83.3 oz/in)
Torque(7.4V): 8.0 kg-cm ( 111.1 oz/in)
Torque(8.4V): 8.8 kg-cm ( 122.2 oz/in)
Speed: 0.11 sec (4.8V) │ 0.09 sec (6.0V)
Speed: 0.07 sec (7.4V) │ 0.06 sec (8.4V)
Operating Voltage:4.8 ~ 8.4 DC Volts
Max Current:7.4V 2.0A
Gear Type:Metal
Spline:25T
Weight: 35.0 g (1.23 oz)
Size:29.5 x 14.0 x 31.4 mm ( 1.16 x 0.55 x 1.24 in)

Includes/Requires:
Includes:
1 x servo (with accessories)


Back to computer version.