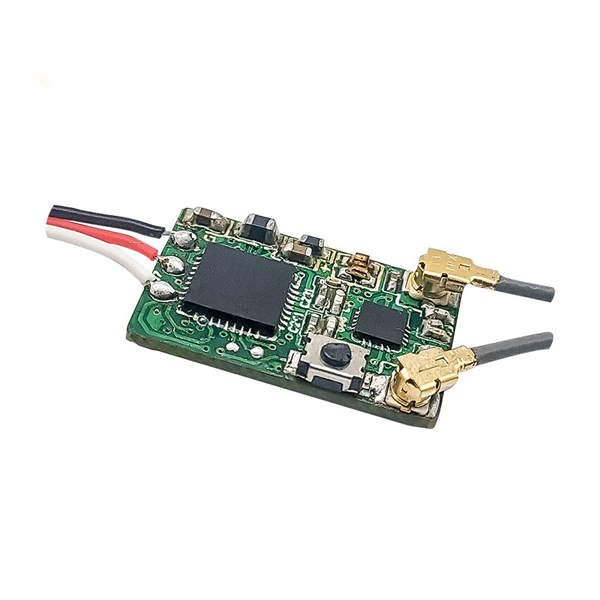 SKU
COR-M610
Brand
CORONA
Added
2022/06/15
Updated
2022/06/15
 
Features:
Introduction:

Corona M610 D16 compatible receiver isavailable for any TX that use the old version Frsky D16 protocol, such asJumper T-LITE, T16, T18, RadiomasterTX12, TX16s, etc and the FrSky two way telemetry modules: DFT, DJT, DHT, XJT,XJT_lite, etc.
Features:
One SBUS channel for special usage(connect FC or expand servo channel).
That canbe set the alarm warning on low voltage and return signal in the TX.
Specifications:
CORONA 2.4Ghz Mini 16-Channel Mini Receiver M610 (D16 compatible)
Specifications:

Dimension: 20x13x3mm
Weight: 2g
Operating Voltage Range: 3.5V-10.0V
Operating Current: Max 60mA
Operating Range: Full range 1.5km
SBUS Frame Rate: 9ms
Bind procedure:
First, turnon the TX and swicth to Bind mode. Second, power on the receiver whileholding the F/S button on the receiver (not connect any servo or other device) and you can see agreen LED going on steady on the receiver. And buzzer begins to sound beebee.The red LED on the receiver will flash, indicating the bind iscompleted. Turn off both the transmitter and the receiver. Turnon the transmitter and power on the receiver. The greenLED that going on steady on the receiver indicates that the receiver isreceiving commands from the transmitter.
Fail safe Setting:
The compatible receivers support failsafe seton the receiver. Turn on the transmitter and power on the receiver. User canpress and release the F/S button as pictured and all channels data will berecorded by the receiver in the first 30s before receivers and TX are connected.When operating failsafe setting, it is not recommended that servos or otherdevices connect with the receiver. After completing failsafe setting, a stablepower supply to the receiver is recommended.
Failsafe setting will be cancelled whenresetting the bind procedure
LED Status Indication
| | | |
| --- | --- | --- |
| RED | GREEN | Indication |
| steady | off | No Signal |
| off | steady | Good Signal |
| flash | steady | Not Very Signal |
| flash | flash | Poor Signal |
Range check:
We suggestuser do a range check before flying any new bind receiver.
Includes/Requires:
Includes:
1 x receiver
Back to computer version.