Multi-rotor aircrafts and accessories
| | |
| --- | --- |
| Multi-rotors 32-bit F3 EVO Brush Flight Controller W/ Frsky Protocol 8CH SBUS Receiver | |
32-bit F3 EVO Brush Flight Controller W/ Frsky Protocol 8CH SBUS Receiver

Added:2017/01/10
Updated:2018/03/09



Tags: F3 EVO Brush Flight Controller W/ Frsky Protocol 8CH SBUS Receiver
32-bit F3 EVO Brush Flight Controller W/ Frsky Protocol 8CH SBUS Receiver
- 32-bit, Based on SP RACING F3 EVO, Specially designed and built for quads around the 100mm and sub 100mm class.
- Features STM32F303CCT6 + MPU6500, advanced hardware guarantee more stable flight
- Support for PPM, SBUS, DSM receiver, Support battery voltage monitor and buzzer function
- Large current NMOS transistors, operating current can reach 10A or higher
- Support 1S (4.2V) and 2S (8.4V) lipo battery,with 2s, you could get even more fierce racing experience than 1s
- Support most hollow cup motors including 1020 series coreless motors.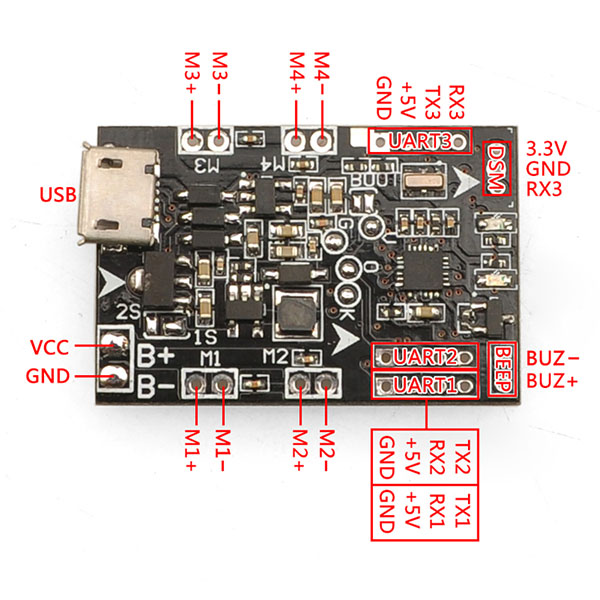 Includes:
1 x 32-bit F3 EVO Brush Flight Controller W/ Frsky Protocol 8CH SBUS Receiver
Please explain:
Messages of this section are not monitored by HiModel, it is for review and discussion among customers only.
Upload Image:
Post as: Review Question
Select grade: star(s)
Anonymous: Yes No