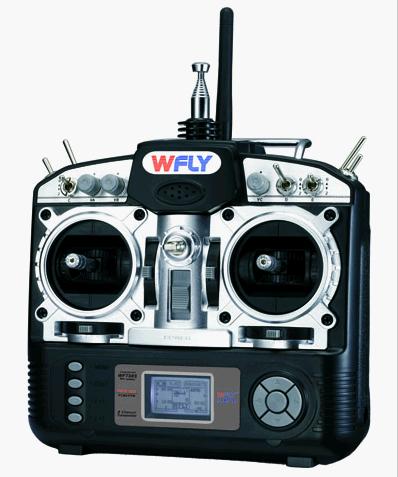 SKU
SU0824EN
Brand
WFLY
Added
2010/06/03
Updated
2010/07/06
 
Specifications:
2.4GHz 8 channels R/C System(English Menu, 4096 Resolution)

Model: WFT08S

Use in: airplane, helicopter, car, boat

Band: 2.400GHz-2.483GHz

Output power: ≤100Mw (2.4GHz)

Modulation: PPM/PCMS 1024/PCMS 4096

12- model memory

RF module: individual

Multi-lingual

Resolution: 4096

Power: 9.6-12V

Mix: PROG.NOR.MIX (5 series) PROG.CUR.MIX (2 series)

*High Speed, High Resolution, optimized 2.4GHz PCMS 4096 " High Speed, Silk-like smooth"

*Convenient stick adjustment, make you free usage

Tree-like Multilayer Menu, human oriented design, easy controlling

Excellent white LED backlight, less visual tiredness

132 x 64 FSTN LCD screen

7 point curve (in any X and Y direction edition), easy complex curve adjustment

Data transfer function, easy teaching and learning

Multi-function, intuitive data setting, easy checking
Includes/Requires:
Includes:
1 x transmitter
1 x WFR09S receiver

* Transmitter manual language: English
* Come in foam packing, without outer color box.
Comments:
The major difference between the standard version (SKU 0824EN) and the Super Edition (SKU SU0824EN) is the resolution, the standard version is 1024 resolution, and the Super Edition is 4096 resolution.
Back to computer version.