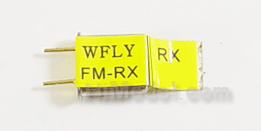 SKU
WDRX7228
Brand
WFLY
Added
2009/01/14
Updated
2009/01/14
 
Specifications:
WFLY dual conversion FM (PPM) crystal
Frequency:72.350 Mhz
Channel:Ch. 28
dual frequency conversion crystal.

* This crystal only work with dual conversion receivers, does not work with single conversion receivers.

Includes/Requires:
Includes:
1 x Rx Crystal mini size

Back to computer version.