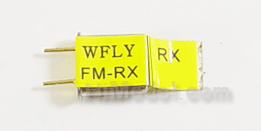 SKU
WDRX4079
Brand
WFLY
Added
2006/12/21
Updated
2008/05/23
 
Specifications:
WFLY dual conversion FM (PPM) crystal
Frequency:40.790 Mhz
Channel:79 Ch.
dual frequency conversion crystal.

Includes/Requires:
Includes:
1 x Rx Crystal mini size

Comments:
Note:
This is dual conversion crystals, and not compatible with single conversion transmitters & receivers like WFLY 6-channel FT06-A or FT06-C radios.
Back to computer version.