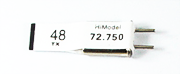 SKU
HI72FB30
Brand
HiModel
Added
2006/12/05
Updated
2006/12/18
 
Specifications:
HiModel 72.390Mhz Channel 30 FM Futaba Compatible Crystal Set
Compatible with nearly all Futaba transmitters and other Futaba compatible transmitters using standard size crystals.
Model:HC-50U (standard)
Frequency tolerance (at 25℃):±3PPM to ±5PPM
Working Temperature:-20℃ to +70℃
Includes/Requires:
Includes:
1 x TX crystal
Comments:
Compatibility tested:
Compatible with all 7 channel less Futaba transmitters like 4EX, 4VF, 4YF, 6EXAP/HP etc.
Back to computer version.