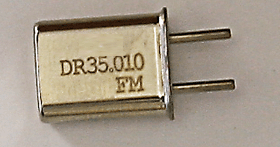 SKU
DRX40FB850
Brand
HiModel
Added
2008/09/03
Updated
2008/09/03
 
Features:
Fully compatible and exchangeable with Futaba standard size dual conversion crystals.
Specifications:
Futaba Compatible FM
Dual Conversion
Receiver Crystal
Negative Shift for Futaba compatible dual conversion receivers.
Model:HC-50U (standard size)
Frequency tolerance (at 25℃): ±10.0ppm~±20.0ppm
Working Temperature:-20℃ to +70℃
Dual frequency conversion crystal.
*Please make sure the frequency matches your TX crystal besides the channel number, because in some countries, the frequencies end in 5, and others end in 0.
Includes/Requires:
Includes:
1 x dual conversion RX Crystal
Comments:
For Futaba dual conversion receivers only, use single conversion crystals instead if your receiver is single conversion.
We do not guarantee the compatibility with receivers from other manufacturers except Futaba.
Back to computer version.