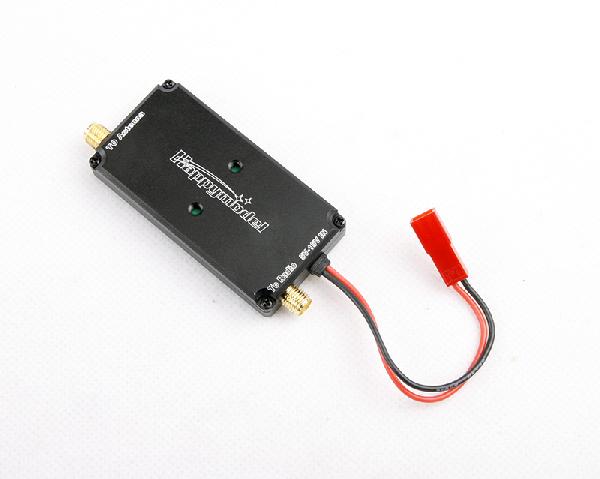 SKU
FPV24G
Added
2015/05/13
Updated
2015/05/13
 
Features:
Typical application:
Increase the range and reliability of your 2.4G radio system, especially for FPV application.
Special feature:
- Custom made 2.4G radio signal amplifier, especially designed for long range application like FPV.
- High speed receiving and transmitting auto-switching circuit, can switching between receiving and transmitting modes automatically.
- With the increasing on-board wireless electronic devices like FPV application, the interference between different devices also getting more and more severe, and the radio system range and reliability also greatly affected, this amplifier is just designed to increase the range and reliability of your radio system.
- Wide input range, 5V - 15V input.
- CNC aluminum case ensures good heat emmission and interference resistance.
Specifications:
Happymodel 2.4G 2W Transmitter Signal Amplifier / Signal Booster
Transmitting gain: 11dB ±1.5dB
Receiving figure:
≤3.0dB;
Input power range:
4dBm-20dBm
Peak power: 33dBm; 2W (input power plus amplifier power)
Working current: ≤400ma
Power supply: 5-15V (External battery or using transmitter battery is possible)
Dimension: 62 x 32 x 10mm (excluding antenna connector and wire)
Weight: 36g (excluding antenna)
Input antenna type: SMA, jack
Output antenna type: RP-SMA, jack
Includes/Requires:
Includes:
1 x amplifier module
1 x conversion cable
1 x 5db antenna
Back to computer version.