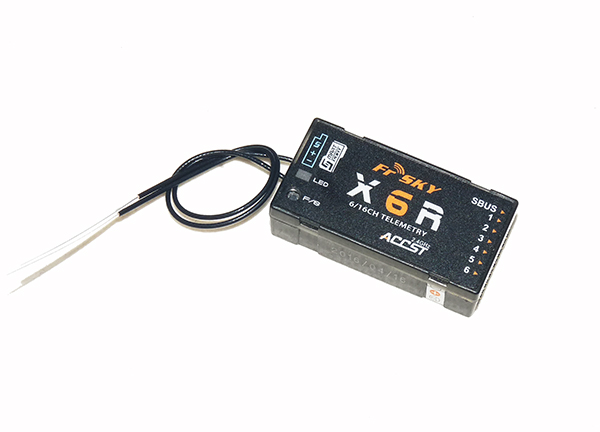 SKU
X6RPCB
Brand
FrSky
Added
2014/06/07
Updated
2014/06/07
 
Features:
• With external analog telemetry port(AD1),
When pins of A1 and X (Middle Pin) are connected by the jumper, A1 will change from External Analog Telemetry Port to
Internal Built-in battery voltage sensor.
• More number of channels: 1~6ch from conventional channel outputs, 1~16ch from SBUS port
• With RSSI PWM output (0~3.3V) on board.
• Smart Port enabled, realizing two-way full duplex transmission.
Smart Port (S. Port) is a signal wire full duplex digital transmission interface developed by FrSky Electronic Co., Ltd. All products enabled with Smart Port (including XJT module, X8R receiver, new hub-less sensors, new Smart Dashboard,etc), serial port user data and other user input/ output devices can be connected without limitations for numbers or sequences at a high transmission speed.
Specifications:
FrSky 2.4G S.Port 6/16ch Telemetry Receiver X6R - PCB Antenna
Dimension: 47.42x23.84x14.7mm (L x W x H)
Weight: 15.4g
Antenna: PCB Antenna (Mounted) + 150mm Coaxial Antenna with packing
Number of Channels: 16CH (1~6ch from conventional channel outputs, 1~16ch from SBUS port)
With RSSI output on board: PWM voltage output (0~3.3V)
Operating Voltage Range: 4.0~10V
Operating Current: 100mA@5V
Operating Range: full range (>1.5km)
Firmware Upgradeable
Compatibility: FrSky DFT/DJT/DHT/DHT-U in D_mode
FrSky Taranis X9D/XJT in D8 mode
FrSky Taranis X9D/XJT in D16 mode
Includes/Requires:
Includes:
1 x Receiver
Back to computer version.