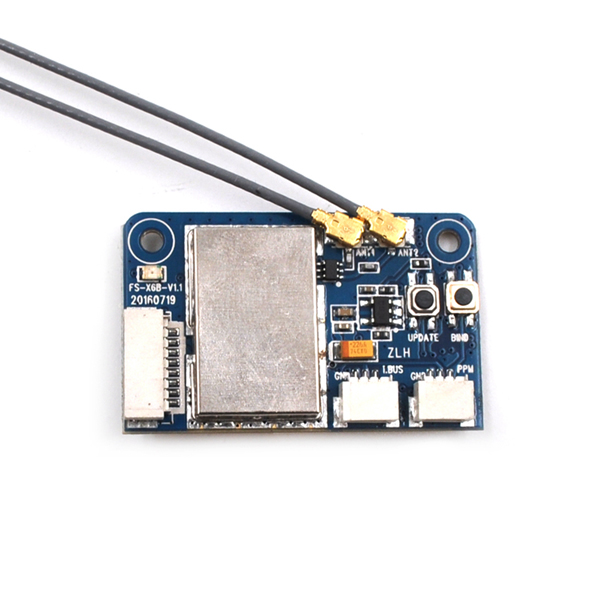 SKU
FS-X6B
Added
2016/12/21
Updated
2016/12/21
 
Features:
Features:

Fit for FS-i10,FS-i8,FS-i6,FS-i6s,FS-i6x,FS-i4,FS-i4x ect.FS series rc transmitter.NOT INCLUDED THE REMOTE CONTROL
It is a 6 channel two-way receiver designed for multi-rotor aircraft
Use the AFHDS 2A(Automatic Frequency Hopping Digital System) protocol and dual omnidirectional antenna with superior noise reduction techniques.
The FS-X6B supports 6 channel PWM output, standard PPM output and i-BUS support for up to 18 channels alongside a reliable voltage sensor interface.
Specifications:
Flysky FS X6B 2.4G 6 CH AFHDS2A PWM ReceiverW/ Voltage Sensor For FS-i10 FS-i8 FS-i6 FS-i6


Size: 37*22*7mm/1.4*0.9*0.3inches
Weight: 5g / 0.18ounce
Ports:
PWM signal port:GND, VCC. Outputs channels 1-6 PWM.
PPM signal port: Outputs standard PPM signal.
BUS signal port: Outputs i-Bus signal,up to 18 channels.
Voltage sensor port:External power sensor (1S-4S connector) +0 to +18V.

Binding:
To prepare the transmitter for binding information refer to your transmitter's user manual.
Power on the receiver while holding the bind button. If the receiver's LED is flashing this means it has entered bind mode. After the successfully binding, the transmitter will automatically return to the previous menu. If binding is successful the receiver's LED will stop flashing a remain solid.
Check if all the model and receiver work as expected. If anything does not work as expected, restart this procedure from the beginning.

Compatible Transmitters:

The FS-X6B receiver is compatible with all AFHDS 2A Transmitters,for example FS-i10,FS-i8,FS-i6,FS-i6S,FS-i6X,FS-i4,FS-i4X
Includes/Requires:
Includes:
1 x FS-X6B receiver
4 x cables
Back to computer version.