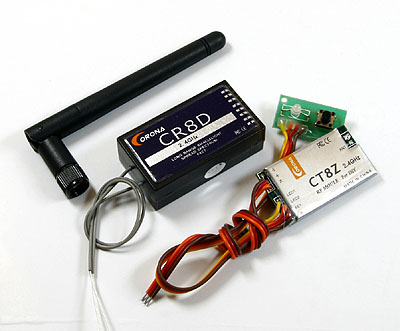 SKU
CRCT8Z
Brand
CORONA
Manual
Manual 1
Added
2009/10/10
Updated
2010/09/27
 
Features:
Features of Corona 2.4GHz DIY transmitting module and receiver
The new lightweight, advanced technology unit has the following features:
1. Extended operating range 1.5 km range, which has been tested in a real flying environment.

2. A 3dbi gain transmitting antenna ensures the wave lengths are evenly distributed throughout the transmitting horizon ensuring the stable signal.

3. One-key user friendly setup mode.

4. Perfect receiver antennas guarantee the plane receives the signal regardless of the maneuver or attitude.

5. The unique receiver design makes the Corona module easy to install and ensures reliability.

6. Corona's advanced needle design ensures the lightest possible receiver
Specifications:
Type: CT8Z DSSS
Size: 38.5*21.8*6.5mm
Weight: 5g
Operating voltage: 8V-13V
Operating current: <100mA
Output Power: <100mW
Includes/Requires:
Includes:
1 x 2.4Ghz DIY transmitting module
1 x receiver CR8D
1 x manual
Comments:
The following contributed by customer "Marcel Wierda"
"By the way: the Corona manual is short but OK except for 1 point:
the instruction to solder the TX antenna lead is incomplete. It is said to solder 1 connection. This is incorrect: you must clear the shielding of the antenna lead and solder 2 connections: signal and shielding. It does improve signal output and reduces chances of interference. On my advise some people order the Corona set and they all soldered only 1 lead and had to reopen the transmitter to repair (by soldering both leads).

Back to computer version.