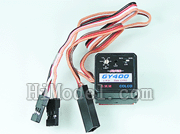 SKU
GY-400
Manual
Manual 1
Added
2006/12/05
Updated
2006/12/05
 
Features:
Colco CLC-GY-400 Head Lock Gyro
●AVCS system
Since rudder trim changes caused by wind and other methorological changes and front, rear, forward, reverse, and other helicopter attitude changes are automatically cancelled, tail (rudder) operation is easy, making it perfect for 3D flight.
●SMM gyro sensor
Use of newly developed extremely low drift SMM (Silicon Micro Machine) gyro sensor virtually eliminates rudder trim changes during flight.
●Integrated, compact, and lightweight
Compact size and light weight realized by high density mounting technology.
●Conductive resin case
Conductive resin case improves EMC (elecrostatic and electromagnetic interference ) resistance.

Specifications:
Model NO: CLC-GY-400
Weight:11g(include connector)
Channel:2 models choose
Dimensions:22 x 22 x 19mm
Operating voltage:+4 to +6V DC
Includes/Requires:
Includes:
1 x GY400 Gyro only ( no other accessories like mini screwdriver, tape etc.)
Back to computer version.