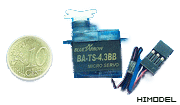 SKU
BATS43BB
Brand
Blue Arrow
Added
2007/01/31
Updated
2010/03/19
 
Features:
This is Blue Arrow new version ball bearing micro servo.
The net weight of this servo is 4.3g. It can also be rebuilt into a lighter one. With the servo-case bottom removed or using the JST plug, the weight can be reduced to 4.0g. Use the enameled wire to connect, the weight can be reduced by 0.8g. Totally, the weight can be reduced by 1.1g, and finally, you get a servo only at 3.2g.
Applications: Micro planes, Hand launch gliders, Small electrics helicopters ect.
Specifications:
Type: BA-TS-4.3g BB
Supply voltage 4.8V- 6.0V
Bearing type: Metal ball bearing
Speed 0.09sec/60degree 6V No load running
Torque: 0.45kg.cm(9.71oz.in) @ 4.8V; 0.65kg.cm(11.1oz.in) @ 6.0V
Connector wire length 160mm
Dimensions 19.6x19.6x8mm
Weight 3.9g net, 4.7g with wire
Plug: JR connector
Includes/Requires:
Includes:
1 x servo
1 x horn set

Back to computer version.