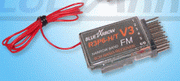 SKU
R3P6HT40
Brand
Blue Arrow
Added
2007/05/28
Updated
2007/05/28
 
Features:
★ BLUEARROW R3Px V3 series micro receivers are upgraded version of the popular R3Px Ⅱ series receivers with much better performance.
★ R3Px V3 series are BLUEARROW newly developed high performance micro receivers with digital circuit. The stable performance of these receivers are ensured by BLUEARROW patented technology and unique MCU programming technology.
★ Retaining its auto-shift detection and other distinctive features from their predecessors, R3Px V3 series micro receivers come with better sensitivity (longer receiving range) and much higher selectivity (minimal adjacent frequency interference). And their low-signal auto-cutoff & protection feature is great to protect your plane from crash.
★ R3P5/6 H/T V3 receiver has standard JR socket
★ BLUEARROW R3Px V3 series micro receivers have two different packages: Shrink wrap or plastic case.
Specifications:
1. Sensitivity:<2μV
2. Selectivity:-53dB ±3KHz
3. Dimensions: 35mmX15mmX10mm(1.38in x 0.59in x 0.39in)
4. Weight: 0.19 oz or 5.3g
5. Channel:1—6CH
6. Modulation:FM PPM
7. Compatibility:PPM transmitter (automatically compatible with positive and negative shift transmitters like Futaba, JR, Hitec, Multiplex, Sanwa, GWS etc.)
8. Effective Receiving ranging:>300M (>1000 feet)
Note: This is the basic spec of R3PX V3 series receivers; field test could exceed this data due to different radio used. If the field test can not meet this data, please check your radio and crystals.
9. Interference test:Connect the receiver to servo (radio and receiver should be on the same channel). Turn on another radio on an adjacent channel and put it close to the receiver. The receiver should work properly (servo does not glitch at all).
10. Crystal:UM-5 or UM-1 RX single conversion crystal
11. Operating current:10mA
12. Input current:5 V (4-cell) ESC is recommended to power these receivers.
13. frequency: 40M
14. Packing: Shrink wrap
15. Pin direction: horizontal pin
Includes/Requires:
Requires:
1 x Mini sized receiver crystal (
BlueArrow UM-5 series crystal
or GWS Mini crystal)
Back to computer version.