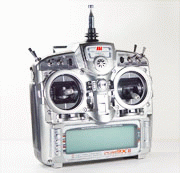 SKU
JR9X2E35
Brand
JR PROPO
Added
2007/07/27
Updated
2007/08/08
 
Features:
THIS IS THE NEW ELECTRIC VERSION JR9XII RADIO SYSTEM, COME WITH MICRO DIGITAL SERVOS, SPECIALLY FOR ELECTRIC POWERED AIRPLANES OR HELICOPTERS.

The computer-designed, ergonomically-styled transmitter case ensures a comfortable fit in your hands.
You will also be introduced to JR exclusive "Rolling Selector" movement through any programming sequence.

The ultra-precision control sticks offer adjustable spring tensions and length. The throttle stick offers a ratchet in Airplane/Sailplane configuration. Stick modes 1-4 are menu selectable.

30-model memory storage allows programming of all parameters of thirty separate airplanes, sailplanes or helicopters; you can program more than one setup for a single aircraft, allowing you to instantly change the flight characteristics.


Specifications:
■Transmitter Specifications:
Model Number: NET-N239ES
Encoder: 9-channel computer system
RF Module: Plug-in-Module TS-35J
Modulation: PPM/SPCM/ZPCM
Output Power: Approximately 750mw
Current Drain: 200ma
Power Source: 1.2V x 8 Ni-Cd (9.6V) 600mAh (battery not included, only come with battery holder)
Output Pulse: 1000-2000 (1500 neutral)
Band: 35Mhz
Available Channels: 55-90.

* Programme language: English
* Manual language: Japanese currently, but you can download English manual online.


■Receiver Specifications:
Model Number: RS77S Auto scan
●SPCM 7ch receiver
●Available for PCM transmitter (SPCM mode)
●Auto Scan System
●Measurement:15x25x47mm
●Weight: 17g

■Servos:
Type: DS385 micro digital servo
Size: 21.5x11.5x22 mm
Weight:8.5g
Torque:1.3 kg.cm
Speed: 0.23
Gears: Nylon
Includes/Requires:
Includes:
1 x transmitter
1 x RS77S auto scan receiver
4 x DS385 servos W/ hardware
Comments:
Back to computer version.