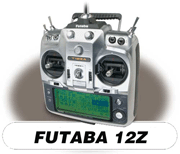 SKU
F12ZHP35
Brand
Futaba
Added
2007/05/13
Updated
2007/11/01
 
Features:
Helicopter version will default to helicopter settings when powered up and does not have a ratcheted throttle stick Shares many features with the 14MZ such as Dual Internal Processors, Real-Time Response with 2048PCM, Fully Synthesized Receiver, Servo Grouping, Variable Dual Rates and Quad-Bearing Gimbals

* Dial-N-Key jog dial with joy stick button allows cursor movement in four directions for very user friendly programming

* Supports eight flight conditions

* Stores memory for up to 25 models

* Total switch customizing capability

* R5014DPS 14-channel synthesized receiver is the world's smallest. Changing frequencies at busy airfields can be done right from the transmitter without changing crystals.

* Multiple servos controlling a single function can be set up through the transmitter and then plugged into differently adjustable receiver channels (even non-consecutively) without needing a separate servo synchronizer for mixing

* Dual Internal Processors allow one processor to be devoted to flying functions while the other processor focuses on non-flight functions such as input and communications

* 7.4V 2200mAh Lithium Ion transmitter battery (FUTM1475) for long operating times

* PCM G3 2048 resolution is "backwards compatible" with 1024 PCM, and FM/PPM

* 25 model memory, 245 model memory available with optional 32MB Compact Flash Card available separately Stick tension and detent are adjustable

* Seven color LED indicator

* R5014DPS Receiver (FUTL7700)

* 7.4V 2200mAh Lithium Ion Transmitter Battery

* Lithium Ion Transmitter Battery Charger

* NiCd 1500mAh Receiver Battery

* Wall Charger for Receiver Battery
Specifications:
Band: 35Mhz
Mode: mode 1 (throttle on right hand)
Channels available: 75 to 82 channel
Includes/Requires:
Includes:
1 x 12ZAP Synthesized Transmitter with MZ-FM Module
1 x R5014DPS 14 channel Receiver
1 x FLT2F2200 7.4V 2200mAh Lithium Ion Transmitter Battery
1 x LBC-1D5 Lithium Ion Transmitter Battery Charger
1 x NR4F NiCd 1500mAh Receiver Battery
1 x FBC-32C Wall Charger for Receiver Battery
1 x DSC Cable
1 x Switch Harness with Charge Cord
1 x Padded Aluminum Case with two Keys
1 x Woven Orange Neck Strap
1 x One each 1.5mm and 2.5mm Hex Wrenches
1 x Instruction Manual (English)
Back to computer version.