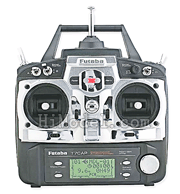 SKU
7CHP35
Brand
Futaba
Added
2007/09/24
Updated
2008/01/13
 
Features:
This is the Futaba 7CHP PCM 7-Channel Computer Helicopter Radio with the R137HP PCM Receiver and four S3001 Servos.

FEATURES: 10-model memory and 6-character model naming Same Dial n' Key programming found on Futaba's 9C systems Basic menu for everyday sport flying.

Advanced menu for more complicated routines Heli and airplane control layouts in FM or PCM Heli specific features:
Throttle Curve (5 points, Idle up 1 & 2)
Pitch Curve (5 points, Idle up 1 & 2)
Revo Mixing
Gyro Hovering
Throttle Hovering Pitch
Throttle Hold Offset
Mode Select feature
Three programmable mixes
Adjustable throttle cut Fail Safe (in PCM mode only)
VR switch controls
Proportional 7th channel EEPROM memory feature retains settings even when transmitter battery is disconnected or removed
Stick Mode Select Feature
Dual Rates on 4 Channels Triple rates available if using the 3 position switch.
Full function trainer system (trainer cord not included)

Specifications:
Transmitter: T7CHP
Stick mode: mode 2, throttle on left stick will be provided by default
Transmitting on 35MHz band.
Operating system: 2-stick, 7 channel system
Modulation: FM(PPM) and PCM switchable
Power supply: 9.6V Ni-Cd
Current drain: 250mA

Receiver: R137HP reveiver

Servo S3001 ( Standard, ball-bearing )
Control system: Pulse width control, 1.52 ms neutral
Power requirement: 4.8V 0 6.0V ( from receiver )
Output torque: 41.7 pz-in (3.0 kg-cm)
Operating speed: 0.22 sec/60
Size:1.59x0..78x1.41 (40.4x19.8x36 mm)
Weight: 1.59 oz (45.1g)


Includes/Requires:
Includes:
1 x 7CHP transmitter
1 x PCM1024 R137HP receiver W/crystal
4 x S3001 servos with hard wares and servo horns
1 x 9.6V/600mAh Ni-Cd TX battery
1 x 4.8V/1000mAh Ni-Cd RX battery
1 x 4.8V/9.6V RX/TX charger
Back to computer version.