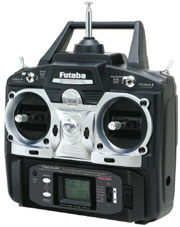 SKU
F6EXHP35
Brand
Futaba
Added
2006/09/30
Updated
2008/01/08
 
Features:
6EX-Channel Digital Proportional R/C System
Digital trim
6 Model memory
Servo reversing
Dual rates
Exponential
End point adjustment
4 character model name
Throttle cut
Specifications:
Transmitter:6EXHP-PCM
T6EXHP Transmitter with 6-model memory.
Transmitting on 35Mhz band.
Operating system: 2-stick, 6-channel system
Modulation: FM (PPM) and PCM
Power supply: 9.6V Ni-cd or Ni-Mh battery or 12V alkaline battery
Current drain: 250mA

Receiver: R146iP 6 channel PCM1024 mini receiver
Receiving frequency: 35Mhz band
Intermediate frequency: 455kHz
Power requirement: 4.8 ( shared with servo)
Current drain: 6mA (at no signal )
Size: 28.7 x 42.7 x 16 mm (1.13x1.68x0.63 in.)
Weight: 16.5g (0.58oz)
* Always use the short type FM receiver crystal (Type 12)

Includes/Requires:
Includes:
1 x 6EXHP transmitter 35Mhz
1 x R146IP mini receiver
Comments:
Changing the 6EXHP stick mode:
The transmitter may be operated in four different stick "modes" (1,2,3 &4). The modes determine the functions that will be operated by control sticks. Currently the transmitter is in "mode 1" ( throttle on right hand ) and you can change to different mode when necessary.

To change the mode, simultaneously depress the MODE and SELETC keys, then turn on the power, the current mode will appear on the LCD screen, Push the DATA INPUT lever up or down to change the mode. If a mode is selected that moves the throttle control to the left stick, th throttle detent mechanism will have to be moved as well, this can be done by Futaba Service Center.

HiModel 2006/10/13

Back to computer version.