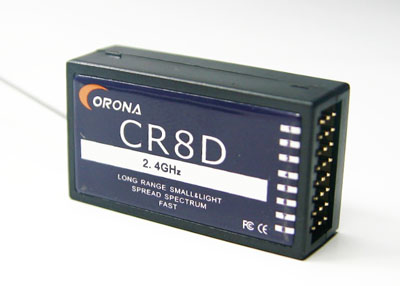 SKU
CRRX8C24
Brand
CORONA
Added
2008/11/10
Updated
2013/04/10
 
Features:
Light weight, mini size 2.4G receiver from Corona.
*Note: Like all other 2.4G brands products, Corona receivers can only work/bind with the Corona RF modules.
Make sure you use Corona RF module before you buy this receiver.
Specifications:
Weight: 7g /0.25oz
Size: 38/45L (without pin/with pins) x 22W x 12.5H mm
*Note: This receiver is only compatible with Corona V2 RF modules CT8F/CT8J, and is not compatible with the old Corona RF modules.
Includes/Requires:
Includes:
1 x 2.4G receiver CR8D
Comments:
HiModel note:
The Cronona FHSS 2.4G system does not compatible with the DSSS system.
DSSS ----- 3 times Frequency-Hopping Delivery to USA ,Canada ,China Market. this Version with Fast response .
FHSS ----- 15 times Frequency –Hopping Delivery to EU market . this version with Stronger resistance for Interference .
Back to computer version.