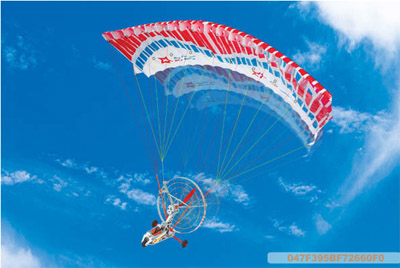 SKU
PARAGL
Added
2010/11/17
Updated
2011/01/14
 
Features:
Function:
- Forward, go and down, turn left and right.
- Max range of flight is 700 meters
- Flight time: 20 minutes at most
- Good choice for entry level beginners to R/C flying.
- Very easy to assemble and virtually ready to fly
- Outstanding stability, without loss of control at low speed
- Built-in auto-cut enables a safe return and landing even after the motor power has run out
Specifications:
Parachute canopy size: 1260 x 460mm
Fuselage size: 23 x 26.5 x 31cm
Weight: 550g
Speed: 10Km/h-15Km/h
Battery: 7.2V 750mAh NiMh
Motor: 380 size brushed
Radio: 2-ch


Includes/Requires:
Includes:
1 x fuselage
1 x parachute
1 x 7.2V NiMh battery
1 x radio (27Mhz)
1 x NiMh battery charger
1 x manual

Back to computer version.