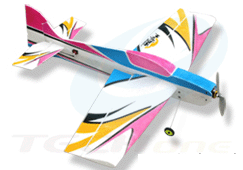 SKU
MYTHOS
Manual
Manual 1
Added
2008/11/10
Updated
2009/06/23
 
Features:
This kit is a great choice for the 3D performance profiles beginners.
This airplane is made from EPP sheet foam,which makes the airplane light,durable and repairable. The assembly is simple and easy. The airplane assembles quickly allowing you to spend more time at the field and less time at your workbench. Please look over the entire manual before you start, it will speed up the building process and assure you of a fine fluing model when you are done.
Specifications:
Wing Span: 800mm (31.5 in.)
Overall Length: 805mm (31.6 in.)
Wing Area: 240 sq in (15.5 sq dm)
Flying Weight: 195g (6.9oz) -235g(8.3oz) with battery

Requires:
Motor Size: A20-34S or 2204/54 Brushless Outrunner Motor
Servos: 5-8 g micro Servo
Prop Size: 9060 Slow Flyer Prop
Speed Control: 18 Amp Brushless ESC
Recommended Battery: 2 cells7.4V 500-800mAh Li-po

Includes/Requires:
Includes:
1 x airplane kit
1 x instruction manual
Back to computer version.