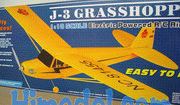 SKU
LEJ3EP
Added
2004/11/23
Updated
2007/03/22
 
Features:
WINGSPAN:955MM
LENGTH:730MM
WING LOADING:47G/DM
WEIGHT:640G
MOTOR:RS-380PH

Specifications:
FRABRICATED BY ACCURATE MOLDS WITH HIGE FIDELITY OF REAL AIRPLAN.
POWER SUPPLY USES 380 MOTOR, WITH EXPERT-DESIGNED PROPELLERS AND HI-CAPACITY NIMH BATTERY PACK, THE PLANE HAS A POWERFUL CLIME AND THE DURATION IN AIR IS MORE THAN 10 MINUTES.
EQUIPPED WITH STANDARD 3 CHANNEL RADIO SYSTEM, AIRPLANE COME 90% PRE-ASSEMBLED.
AN GROUND TAKE-OFF CAN BE PERFORMED EASILY.
FULL SET OF TOOLS FOR ASSEMBLY INCLUDED.

Includes/Requires:
KITS INCLUDE:
AIRPLANE
3CHANNEL R/C SYSTEM
INSTRUCTIONAL MANUAL
NI-MH BATTERY & ATTERY CHARGER
TOOLS
OTHERS

Back to computer version.