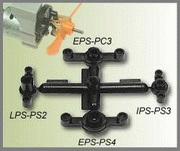 SKU
GWPS01
Brand
GWS
Added
2006/04/30
Updated
2006/05/25
 
Specifications:
Tyep: GW/PS01X2
THE PROP SAVER IS AN EQUIPMENT WHICH ARE ABLE TO ABSORBING SHOCK FROM PROPELLER BLADE WHEN THE PROPELLER HIT TO THE OBJECT
Instructions as below :
1. Get all parts ready (Power system, propeller saver, nuts, washer and rubber band)
2. Screw one nut onto the drive shaft till the end.
3. Put another nut into the center hole of propeller saver.
4. Screw the propeller saver together with the nut putting in the center hole to the drive shaft, and screw it tight.
5.Put the washer onto the drive shaft.
6.Put in the propeller.
7. Use the rubber band to fix the propeller in the method like shape 8 or so called "butterfly".
Back to computer version.