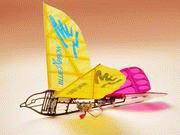 SKU
BAWBRB
Brand
Blue Arrow
Added
2006/02/21
Updated
2006/05/25
 
Features:
This is the Fiberglass Wing Bird - Mico RC Robot bird Kit version.
It is a kind of mechanical bird that is made and designed by birds' flying principles.

It is easy to control when flying.

It is made up of fiberglass, compound materials and metals.

It is the smallest and commercial R/C ornithopter in the world at present.
Specifications:
Wingspan Length:490mm(19.3in)

Body Length:345mm (13.6in)

Weight:72g (2.54oz, battery not included)

Battery:Li-Po 200-450mAh, 2S(7.4V) ( not included )

Flying time:7-15 minutes (determined by battery used)

Recommended accessories

4CH Receiver, speed controller, 2pcs 3.6g servos and mixing machine with V-tail (If you use transmitters with more than 6 channels, you can setup function of V-tail mixing control on transmitters.)

Motor:N60 brush motor and 10A ESC

120 size brushless motor and 10A ESC
Includes/Requires:
Includes:
1 x firberglass wing bird
1 x N60 brushed motor W/ pinion
1 x sticker
1 x manual

Requries:
1 x 200-450mah/7.4V lipo battery & charger
2 x 3.6g servos
1 x 10A ESC
1 x 4 ch. transmitter
1 x 4 ch. receiver
1 x V-tail mixer ( or receiver with V-tail mixer )
1 x 120 size brushless motor ( KV4200 ) with 6 teeth pinion ( optional )

Back to computer version.