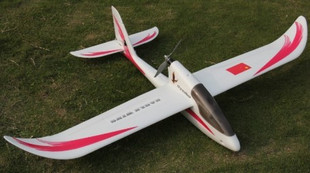 SKU
FPVLYY
Added
2010/12/24
Updated
2012/07/09
 
Features:
The glider is a good choice for FPV application, also it is a good choice for beginners.
Very good stability and low power consumption, suit for long distance/time fly.
Specially designed for FPV application, mounting position for camera and holes for wiring reserved.
Specifications:
Wing Span: 1500mm
Fly weight: 830g (approx.)
Servo requirements: 3.7g (not included)
Wing area: 25.5
Suggested setting (not included):
Battery suggestion: 3S 2200mAh Lipo (not included)
Suggested motor: 2212-2215 size, KV 1300
ESC requirement: 30A (not included)
Servos: 3x 9g or 12g
Propeller: 8 x 6 inch (not included)
* Hint: if you want to use the same main battery pack for video system, you can use a voltage step-up unit like
SKU 35V03A
.
Includes/Requires:
Includes:
1 x glider kit
2 x servo extension leads
1 x Y-lead
1 x motor mount
1 x decal
* No instruction manual, no electronic accessories.
Back to computer version.