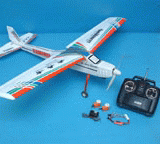 SKU
CDARTY
Brand
Hangjian
Added
2005/01/22
Updated
2006/05/25
 
Features:
This is a Almost Ready-to-Fly, Electric Powered,Aerobatic up-wing Airplane.
For Intermediate to Advanced Modeler/Flyers.
Recommended for modelers who have had trainer airplane experience and also have safely flown and landed planes.

*Using acrobatic airplane layout, the plane provides flexible controlling abillities and can make normal flight course, transversely rolls, inverted flight, flap-flip and sprial flying, etc.
*Equipped high power intelligence micro electric speed regulator, the plane has safe, convenient crater start-up and low-pressure power-off functions.
*The use of model-plane strcture and material with breakage safety design greatly lowers the extent of crash breakage.

Specifications:
Wingspan: 860mm
Length: 680mm
Wing Area: 12dm2
Approx Weight:480g
Motor: 380 Class
Battery: NiMh 1000mAh/8.4V

Specs of ESC:
Battery Voltage: 7.2V-12V
Max Continue Current: 20A
PWM Frequency: 1600hz
BEC: 5V, 1A
Auto Power-off Voltage: 5V
FET on-resistance: 0.009 ohm
Weight: 13g



Includes/Requires:
Includes:
1x up-wing airplane
1x 380 Super Motor
1x 7.2V-12V 25A speed controller
1x 1000Mah/8.4V Ni-Mh battery pack
1x 120V/230V switchable charger
2x props


Requires:
1x 3Ch. radio system
2x 9g Micro Servos
Back to computer version.