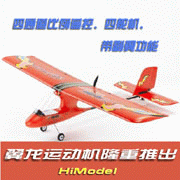 SKU
SPEP0372
Added
2007/04/03
Updated
2007/04/03
 
Features:
Aerobatic version of the famous Wing-dragon!
Enhanced aerobatic capability based on the stabel flight of the Wing-dragon. Inverted flight, rolls, loops, are all a piece of cake.
This is the Ready to Fly version, everything required included except the AA batteries for transmitter.
RoHs comply.
Specifications:
Wingspan: 1180mm
Length: 860mm
Weight: 650gram
Motor: 480, directly drive
Airfoil: NACA2412
Battery: 9.6v, 1000mah
4 servos included.
Radio: FM with proportional speed control , 4ch, for the intermediate level user. Control is over Rudder,Elevator,Ailerons and speed controller. 4 servos included. The tranmitter with channel reverse function, FMS simulator plug and charging plug;


Frequency Available: 35Mhz, 40Mhz, 72Mhz.(Model 1 and Model 2)

Hint: Please specify the frequency and model(Throttle on right or left hand) of transmitter in the remark field when placing an order.

Back to computer version.